Another long wait for this blog post, so as usual apologies. Here is my story from Guernsey marathon.
The August bank holiday weekend would play host to marathon number 9 and our longest journey, this time overseas to Guernsey. It would also give Hayley and I an opportunity to enjoy a four-day break, which we dared to call our summer holiday.
A long overnight car journey to Poole ferry port was swiftly followed by a lengthy boat trip to the small island of Guernsey on Friday 24th August where we had envisaged glorious sunshine, sandy beaches and a spectacular first day of camping. Instead our trip began with a thorough security check (Hayley looking suspicious of course), a 2hour island wide search for our campsite and torrential rain from morning until night. Not the ideal start to our 'summer holiday'.
The ever positive me chose to focus on the positives of course and at no time whinged, moaned or sulked about our misfortune (at least that's what I will write for the record) and day one drew to a close as quickly as it had started.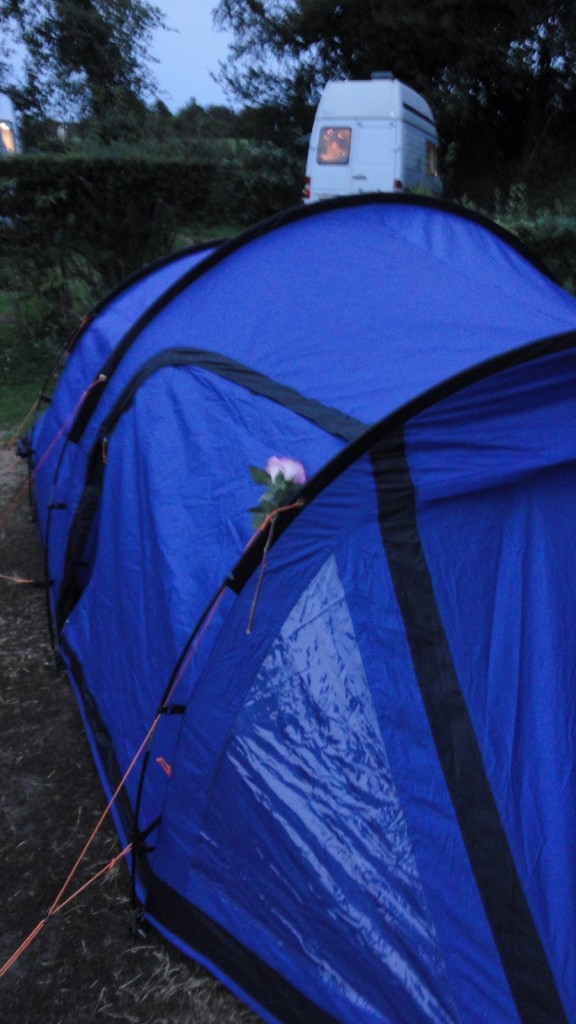 Our start to day two was to be no different with more torrential rain and gale force winds, but the arrival of Marathon Man number two gave us something to look forward to. With Hayley unable to hold her excitement for the appearance of her second favorite world athlete we arrived at the airport with time to spare and waited patiently in the lounge.
I joined the 'masses' waiting for their loved ones to arrive, even making a sign for Langley to pick out his adoring fans. To our surprise Langley was first through the finish line (arrivals gate) and we were soon on our way to enjoy all Guernsey had to offer the visiting threesome.
We enjoyed a quiet day exploring the local shops, bars and cafés and even found the Chelsea v Newcastle United match on screen at The Ship Inn. A poor Geordie performance and fairly disappointing evening meal wouldn't dampen our spirits (even though the weather had) as we shaped up for the big race a day later.
Camping in our tent Hayley and I were awoken by the early morning sunrise at 6am and were then unable to rest further before heading to Langley's 4 star hotel at 7am to enjoy a warm shower and banana + tea breakfast. 8am was our signal to walk some 2miles to the start line, due marathon day road closures, arriving in time for registration and warm-up (not that we ever partake!!!)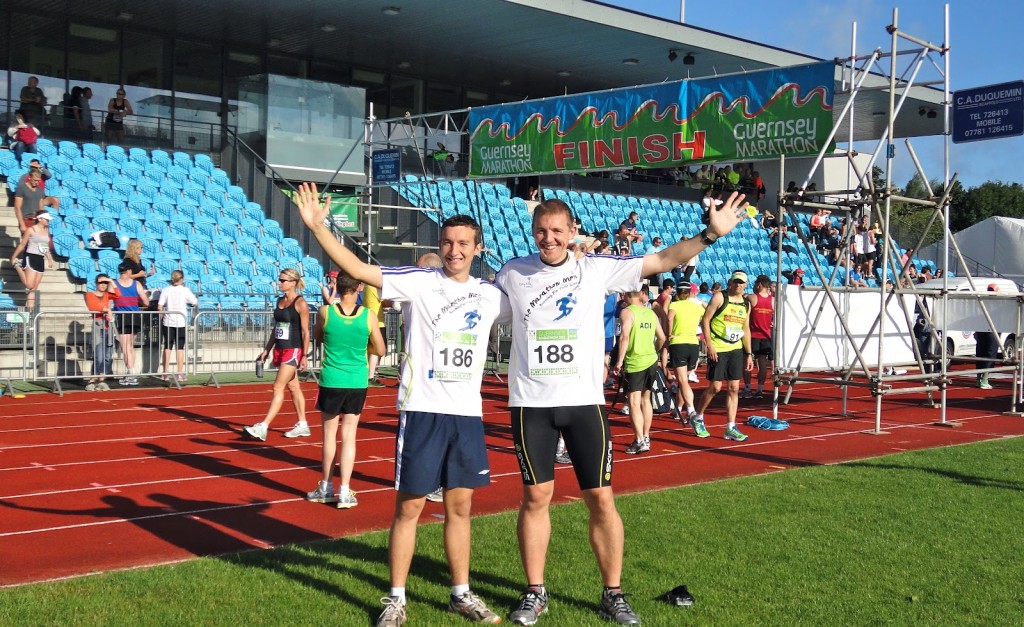 At 9am we were lined up and ready to go having selected a number of competitors we were determined not to be beaten by!!!
Langley's target was an elderly lady who looked more ready for aqua fit than a marathon, and mine a young man dressed in a foil suit (either a space man wannabe or simply crackers) who given the heat was bound to find the going tough.
Unlike the previous two days the sun was prominent and it was an incredibly warm morning – not exactly what Langley and I had wished for. The race followed a coastal route around the island and offered some spectacular views out to sea. We passed a number of congested harbours and busy beaches. I know where I'd rather have been on a day like this… what I would have given to have been taking part in a surfing lesson or to be bathing out on one of the fabulous boats sitting at the jetties.
Dreaming over and back to the race, which was proving a tough one. I enjoyed Langley's company for the opening 8miles before a communication mix-up left me trotting ahead to complete the final 18miles on my own.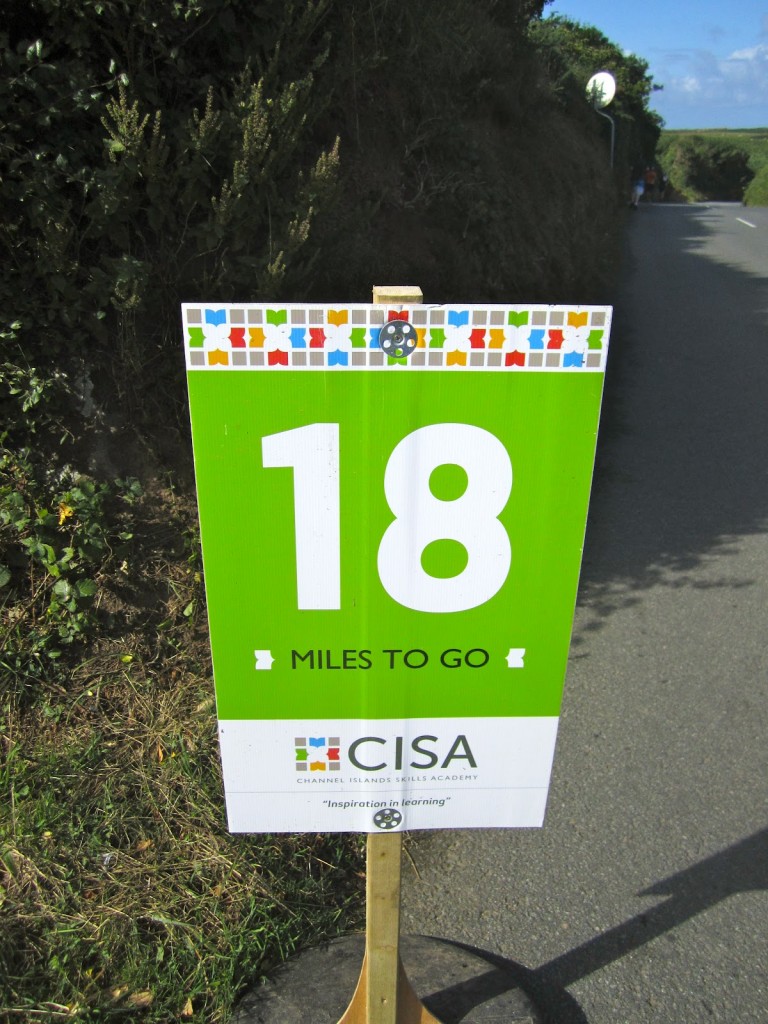 It is never easy running on your own, but keeping pace with one another can often be tricky. It's common that one runner's need to rest comes at a different time to the next and it can prove a challenge to restart after an unforeseen stop (something I would experience later in the race).
Fortunately for me the Guernsey public had gathered on the roadside to cheer me around, as well as the very supportive relay runners who gathered every 5miles. I even caught glance of a hay bale supporter in a local farmer's field (trespassing perhaps!)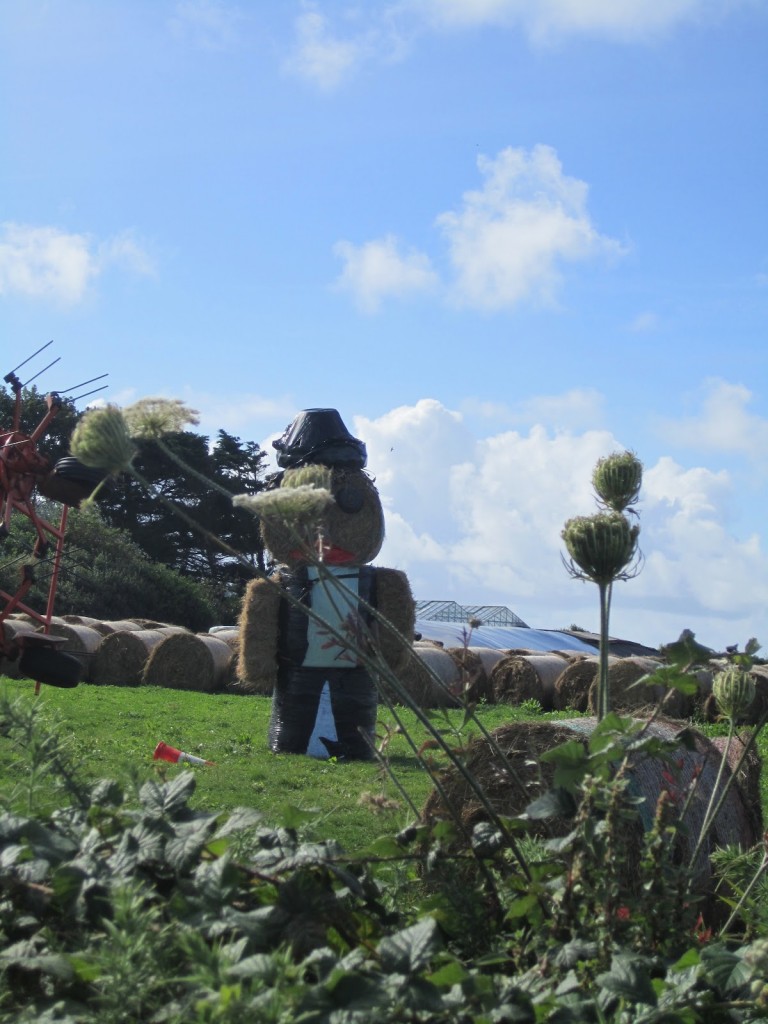 The heat became a challenge and by noon the sun was beating down on me hard. Each mile had an impact on my body. I was lifted at mile 15 when I caught sight of my target ahead and my competitive nature saw me track him down at quite a pace. He was wrapped like a Christmas turkey and I'm sure regretted his decision to dress in a foil suit that morning. 24° outside – 30° inside this man's space suit. In 1969 the world heard the famous words 'one small step for man, one giant leap for mankind' as Neil Armstrong walked on the moon. The good news for my silver friend was every one of his 'small steps' would take him inches closer to the finish line and more importantly a chance to get out of that foil suit! Fair play to you my astronaut friend.
Spectacular views followed which helped me forget about all the small and painful steps I was taking in my quest to finish in a sub four-hour time.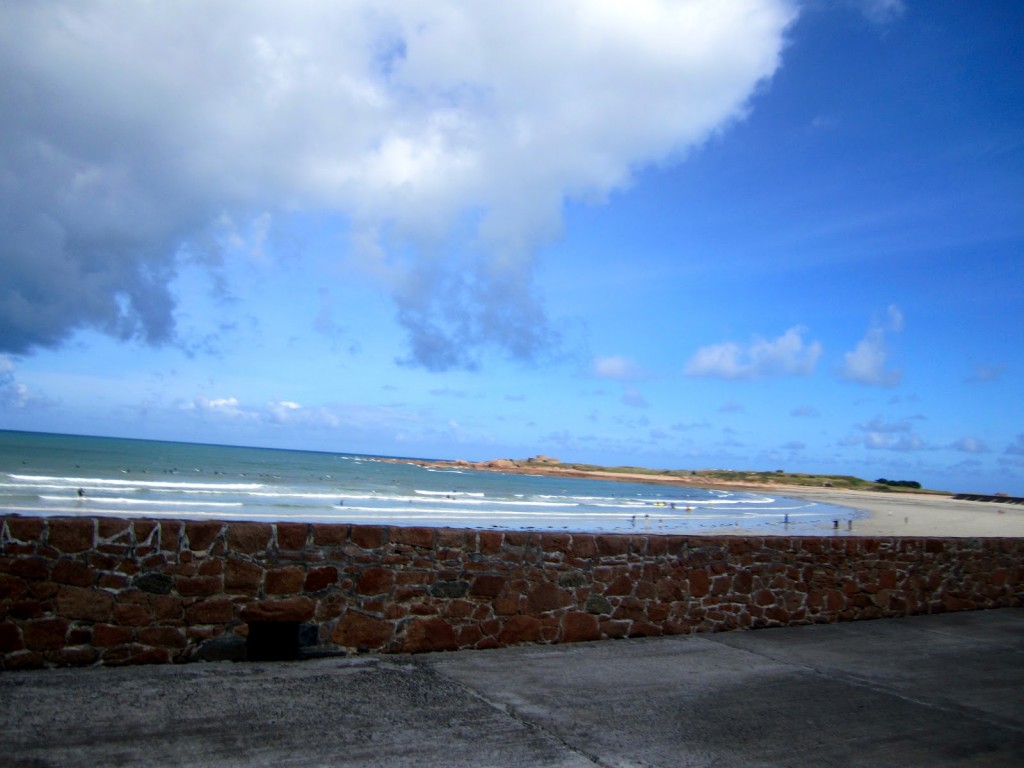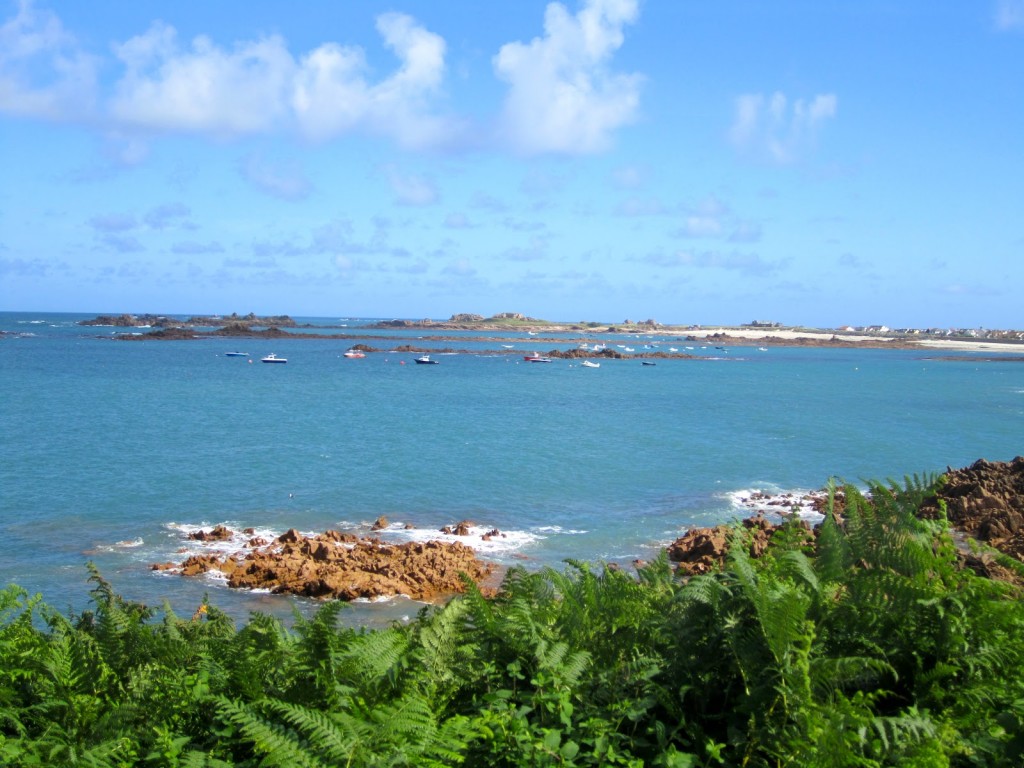 I'd enjoyed a very positive middle section of my race, with a sub nine-minute average mile pace since leaving Langley, but unfortunately for me my luck would change and the thought of a PB was destroyed when a blister developed on the underside of my right foot. I tried to run through it, only making it worse and with six miles to go I was forced to stop and seek some medical attention. By medical attention I simply needed a plaster before I could carry on back towards the stadium.
I stopped at the next drinks station where I'd hoped they'd stock a medical kit for runners in need, but my misfortune would continue with no medical kit available and the closest St John's Ambulance team two-miles back down the course.
I decided to take a few minutes to give my feet some air and by complete chance a local family stopped to ask how the race was going and after hearing of my blister problem they could offer the perfect solution. They were the owners of a yacht floating on the jetty only 100yds away and in there they had a fully stocked medical kit. With no time to lose they sent their young boy in search of the bag and he returned with plasters galore, helped me tape my feet up and sent me back on my way. A stroke of luck and fantastic support from a local family! For this I was extremely grateful and the 15minutes I had spent sitting roadside wasn't so much of a nuisance anymore… I was back on track and my blisters weren't giving me any further pain. Ideal, or so I thought!
I quickly began to realise that the muscles in my legs had seized up and restarting was becoming a problem. It was the same feeling you experience at the end of a marathon race, which makes sense. I'd previously stopped and rested for fifteen minutes which my body will have decided was the end of its days work and ultimately shut down. Believe you me running with a body which has packed in is no fun experience and with a body screaming at me to stop the closing six miles were as painful as any I'd experienced in previous races. The only positive I could find was that the closing stages were flat to downhill all the way back to the stadium.
Oh and these signs did not help me in the slightest!!!
But I did get there… step by step I had made it back to the stadium where the organisers had us run away from the finish line to complete a lap of the running track before allowing us to celebrate crossing the finish line. It had been a race of mixed emotions – I'd felt great for 20miles. I had a PB in my sights, but had it taken away by an unforeseen stop and the true test of a marathon came in the closing miles.
For the record there was a wall… in fact it was a bloody big one and yes there were doors, but not as many as I would have liked.
I finished in a time of 4hours, 15minutes and 36 seconds. Langley ran home in a time of 4hours, 41minutes 42 seconds. Times aside we were both pleased to have finished and now we're on the home straight with only three marathons to go!!!
A fun holiday (not sure Hayley will accept a holiday like this too often however) and rewarding run was enjoyed by all J