In my previous blog I spoke of my excellent preparation and good health leading into marathon two in South Devon. It's safe to say that preparations for Blackpool had not gone so well. We'd both had a considerable drop in the number of training miles we were putting in and I'd had a spate of illness leading into the race.
Earlier in the year we had told ourselves that the Blackpool Marathon gave us both a realistic chance of setting a new PB and even the possibility of posting a 3 hour 30 finish time. On the day however, it was simply a case of us just getting round.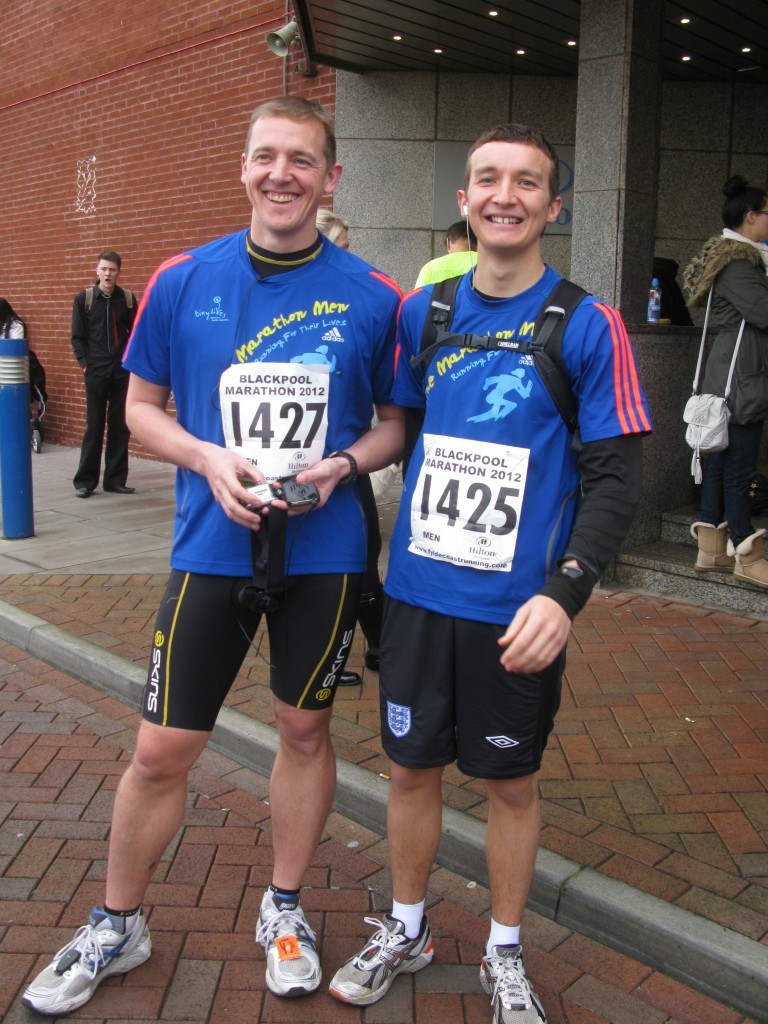 To our disappointment the course was to be two laps of the half marathon course, meaning we had to run the exact same route twice, and believe me running it once wasn't the most inspiring route we will ever tackle!
We gathered at the start line, meeting up with Liz and a few other familiar faces – at this point Langley had attracted the attention of the world's most boring man who seemed keen to quiz him about our challenge – good work Langley, they normally cling to me!
Just as Langley began to nod off, the starting gun went and we were sent on our way, heading towards the Blackpool Tower and Pleasure Beach.
We started off at quite a pace too, averaging sub 8.30 minute miles for the opening six. In fact we were moving along at such a rate of knots it wasn't until mile 16 that we crept up into the nine minute mile category.
Throughout my thoughts were solely on my legs and stomach pain, largely because Blackpool had so little to offer that would distract me from the inevitable aches and pains that come from a race of this length. In fairness we had been spoilt at our previous races which had been both incredibly challenging and stunningly beautiful.
Blackpool did have a few high points which Anglesey and South Devon did not – these being the number of early morning drunks falling out of bars, an incredibly impressive young unicyclist, and in total I counted two tramps amongst the supporting galleries who'd kindly come out to cheer us on our way round.
By the 13 mile point my stomach was in bits so I decided to pull in for a pit stop, also known as the row of portaloos conveniently positioned at halfway.
Langley carried on his way down the long stretch towards the tower – a boring run first time round, but even worse running it alone a second time. Pit stop complete, I thought I'd set chase on Langley who had well and truly disappeared into the distance. Rather foolishly I saw this as a chance to test my legs and challenged myself to catch Langley before the tower. Clocking a 7.49minute mile, followed by an 8.07minute mile saw me hot on his heels. Before long I'd hunted down my prey, albeit I was completely knackered.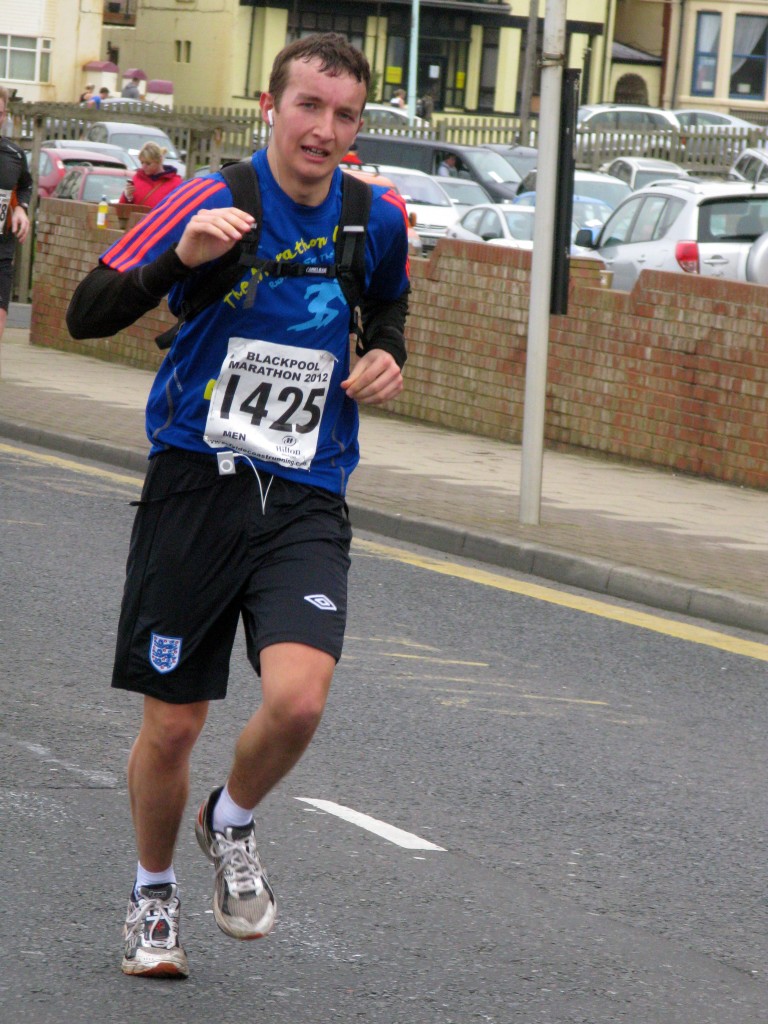 Back together again we enjoyed the same old sights we'd seen only a few hours earlier. It was becoming a mental battle and we tried to keep each other going. Our support team helped when we bumped into them again at mile 18 – some great support helped us kick on and push hard for the difficult ten miles ahead.
Langley took a quick break to sooth his recurring cramp pains and I decided to keep on running, knowing I had enough in the tank to get home in a good time.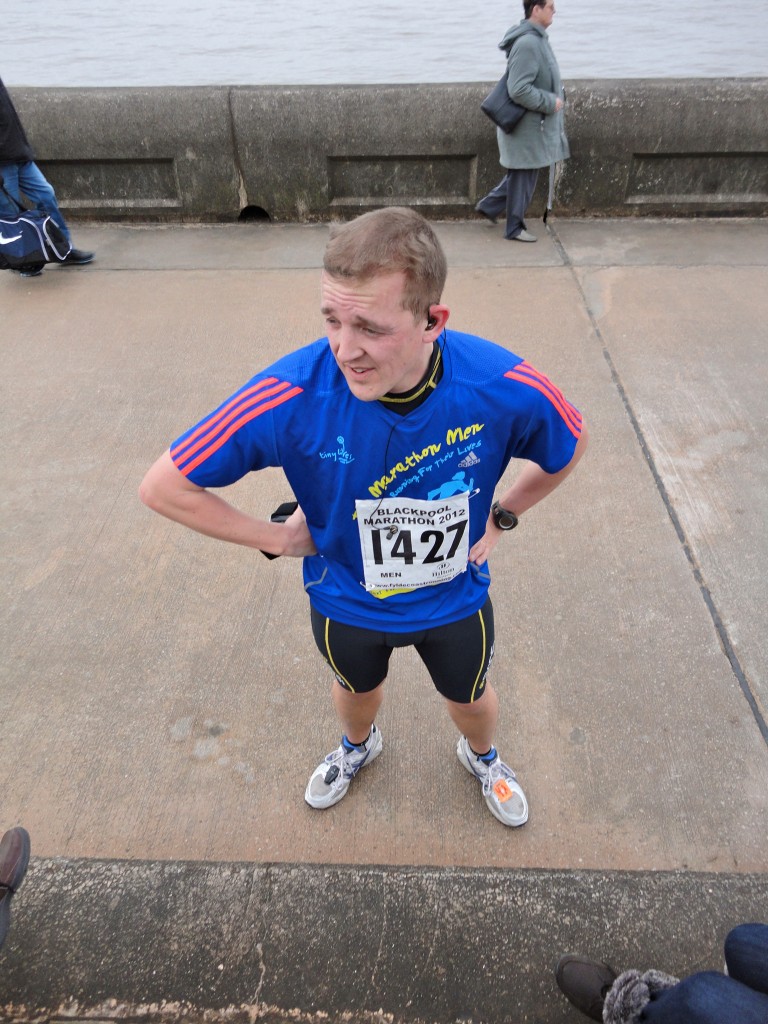 The last few miles were long and mentally draining, but the words of Endurancelife were ringing in my ears – Never, never, never give up! All I needed was the sign from South Devon to encourage me to sprint for the finish line.
There was no sprinting on show I'm afraid, but I got my head down and drove towards the cheering crowds and inflatable finish line I could make out in the distance.
The finish line didn't seem to be getting any closer and my chances of breaking four hours were beginning to look slim. I knew I'd be a miserable sod for the rest of the week if I posted anything above the four-hour mark so I decided to kick on no matter how much it hurt.
Before long I was sprinting over the finish line and I knew I'd made it in a time of 3hours 57minutes – exactly an hour faster than my finish time in Devon.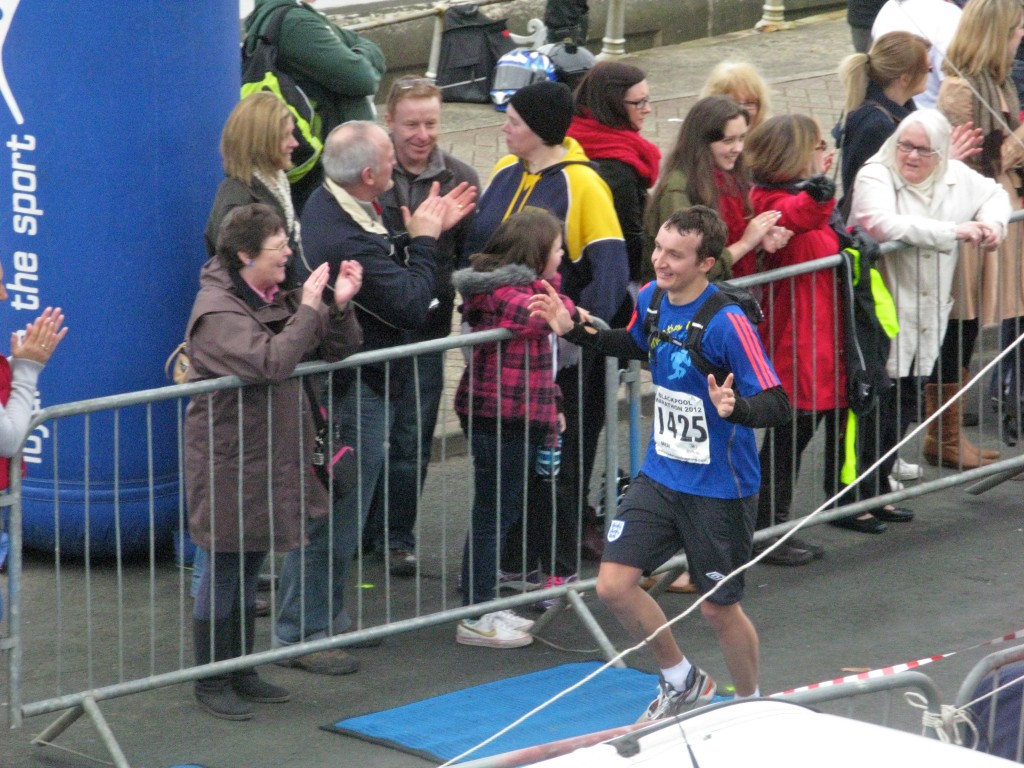 I felt whacked and slowly made my way to find a seat, knowing my legs wouldn't keep upright for much longer. From my seat I could see the rest of the race unfold and cheered Langley across the line only a short time later. Langley's time was a very respectable 4hours 10minutes.
We are now a quarter of the way through our challenge and the word of the year so far has been awesome! As we hobbled back to the car I almost let the word awesome slip out of my mouth in describing the day's events, but that was soon swallowed as we found two parking fines stuck to our car windscreens.
I quickly told the group that 'I won't be running the Blackpool Marathon again – it's stuck in the 50s and it's time to leave!'
For a moment I almost had a positive word to say about our most boring marathon of the year so far. Okay, it was still a little bit awesome (but don't tell anyone I said that).