The eagerly anticipated South Downs Marathon was upon us and Langley, Hayley and I travelled with excitement to Britain's best marathon, if recent Runners World polls are to be believed. The long journey to the South coast gave us runners ample time to stock on energy sources, with Langley kindly supplying the supplements.
We'd left our accommodation booking to the very last minute which meant we had to switch hotels during our stay. This may have proved a hassle for some, but not for The Marathon Men. After a nine hour journey we arrived at the Angel Inn just in time for supper and more importantly to watch the opening games of the Euro 2012 tournament. Food and football… Every man's perfect combination! Hayley's moans could just about be heard amongst the incredibly loud commentary blaring from the TV.
On the morning of the race we travelled to the quaint little village of Slindon where the runners would gather ready for the staggered start. As always we were keen as mustard and arrived over an hour before our scheduled start, which gave us a chance to look around the starting area. Unfortunately for us, entertainment was limited and we faced a long and potentially nippy wait.
It was at this stage Langley suggested we enquire about switching the wave in which we would begin – sounded like a master plan and the organisers duly obliged.
We were to begin in the first wave with the slower runners, as opposed to the final wave with the elite runners. Ideal, I thought, perhaps we could be the first to cross the finish line!!! Langley quickly squashed these hopes by positioning us at the very rear of the pack, which in fairness was the correct thing to do – us branding elite numbers on our fronts.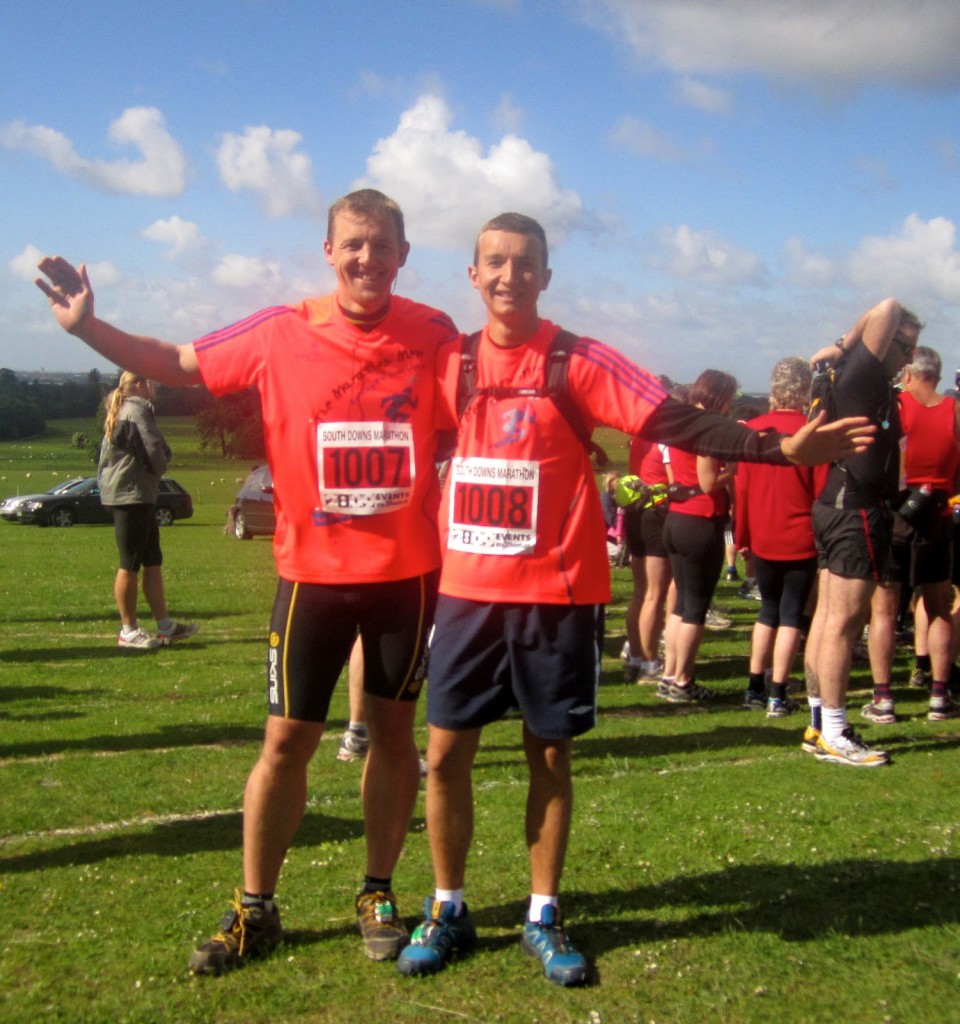 The race began and we knew very little about the race itself. All I knew was that we were in for a very hilly journey and at some stage we'd run across the cliff tops down on the south coast. Or would we? Certainly Langley's pre-race image would suggest we would!
So off we trotted in search of the glorious cliff top views Langley had promised. The pace was slow during the early miles, with lots of single file tracks and little room to overtake. This would give us the steady start we needed for the long journey ahead.
By mile four we'd enjoyed relatively flat terrain and were both trundling along feeling good. At this stage I'd totally forgot about the 6000ft climb which was still to come and had told myself that this could be one of our easier races. Oh, how wrong I was. How very wrong!
The hills started to come thick and fast as we made our way across farmer's fields and along tractor tracks. We were even faced with a nearly impassible rape seed field. I don't remember being advised to carry a machete to help with this section.
Hayley caught her first glimpse of the marathon men at mile eight where we stopped for a prolonged chat (aka much needed rest) before racing up the hill to impress our number one fan.
It was at mile thirteen that we really started to notice the climbs getting longer and steeper. A trend which was to continue right until the end of the race, much to our frustration.
You can curse all you like at the various challenges a marathon throws at you, but the truth is you have to be mentally tough and not let it get to you. If you say it's hard, it gets harder and you begin the spiral down and lose energy more freely.
I wonder if I say it is easy the hills begin to feel like down hills? Hmmmm, it's a thought for next time.
On we went and more and more the hills tested our metal. Many of which we succumbed to walking, along with almost every other runner in the field.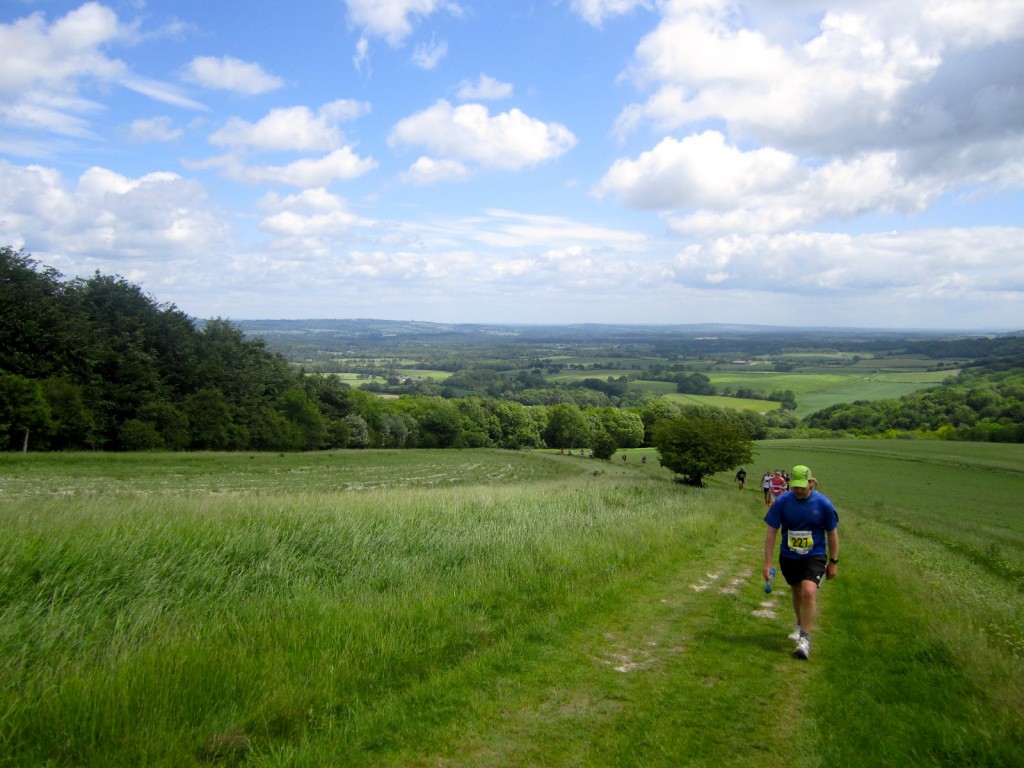 The miles began to get grueling and I was thankful to still have Langley by my side. I think the company throughout helped keep our spirits up. There were periods where I'd rely on him to pull me along and others where I'd keep him going.
We were thankful for the scenery and in-particular the sections where the valley would open and you could look out as far as the eye could see. There were truly some magnificent views and we enjoyed retracing our footsteps as we looked back at peaks we'd crossed behind us.
I found mile 18 – mile 23 very tough, with a lot of hills to moan about and my legs in agony. At this point I'd have been more than happy to wave the white flag and surrender to the South Downs Way, but we bashed on and kept each other going.
In the latter stages of the run I asked a lady how she would describe the course. She responded by calling the organisers 'sneaky' having thrown in a few 'cheeky hills'.
I thought this was quite a positive way to summarise what Langley or I would have sworn terribly about, no doubt cursing every last hill.
Note to self – must remain positive when faced with big hills!
The end was in sight and we knew that if we put our heads down and took turns to lead the way we'd make it home and our legs would get the rest they were crying out for. I very much enjoyed the run-in from mile 24 where the course meandered through a couple of woodland areas and picnic hot spots, before closing at the park.
For the first time this year Langley and I were going to complete a marathon side-by-side and what better way to end the race than with a sprint finish to entertain the crowd. We turned to look at each other, both bearing a huge smile before sprinting to the line.
A great way to end the day's proceedings.
We caught up with Hayley who fed us with chocolate, before we headed back to our second hotel of the weekend, The Hampshire Hog.
It was during lunch that I remembered back to the image Langley had posted in his own summary of the South Downs marathon – remember it? The cliff top picture at the top of this blog… It was here I questioned him on the whereabouts of this mythical coast line. In fact come to think about it, is this not the view from the white cliffs of Dover? Some 120 miles away…