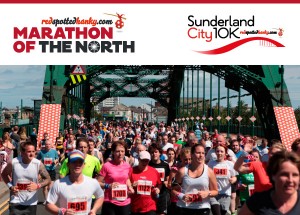 The inaugural MARATHON OF THE NORTH will take place on May 6th 2012 and Jamie and I will be there!
The Marathon of the North course starts and finishes at the Stadium of Light (Booo!) on the North bank of the river Wear. After crossing the bridge, the marathon route follows the first few km's of the Sunderland City 10K course. The first half of the race is run entirely on the south side of the river visiting many of the city's suburbs and travelling down wide easy running streets. It is predominantly flat with few noticeable gradients.
A circuit of the picturesque Barnes Park is the pre-cursor to the halfway point before heading back across the Monkwearmouth Bridge and a quick wave to the crowds at the Stadium of Light as you head out for the last 10 miles which is run predominantly with the river and the stunning beaches and coastline as your companion.
If you're interested in finding out more about this particular race you can do so via the following link: http://www.marathonofthenorth.co.uk