They say time flies when you're having fun and that has certainly been true of our marathon challenge to date. We travelled to Brighton in the knowledge that once we'd successfully crossed the finish line we'd be a third of the way through our mammoth challenge. This was a great motivation for the race to come.
With a lengthy journey ahead Langley, Hayley and I decided to take the train in order to save our legs as best we could and for Langley to get his weekly dose of travel Yahtzee. The journey was full of humour and was lots of fun, despite me losing every possible variation of cards and dreaded Yahtzee. I must have been saving myself for the big run!
On the morning of the race we'd slightly underestimated the enormity of the event, not realising Brighton would come to a stand still and finding room on public transport or flagging down a local cab would be harder than completing the 26.2 mile race itself. Therefore we were faced with a 2.5 mile walk from hotel to start line. Thankfully the weather was fine and the walk gave our legs a chance to warm up.
By the time we'd arrived at the starting area the park was buzzing. Thousands upon thousands of runners and spectators were milling around and the atmosphere was electric. Runners were of all shapes and sizes, some looked nervous and others eager to begin. There was also the usual array of fancy dress runners amongst the crowds who added some colour and extra fun to the day.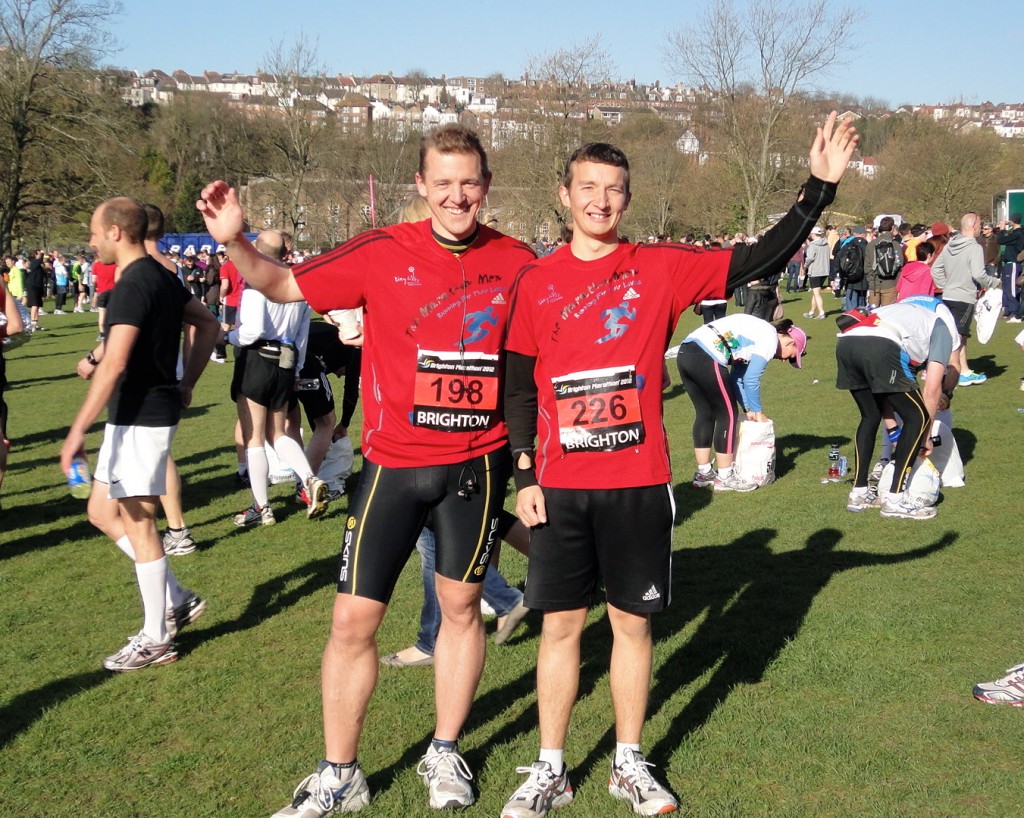 I wouldn't say I was nervous but I did make three toilet visits before we made our way to the starting gates. Perhaps adult nappies are the way forward at future races – this weak bladder nonsense can be a real time killer out on the run.
9am arrived and we were under starters orders with Brighton and Hove Albion manager Gus Poyet on the gun. I'd have preferred Alan Pardew myself but can see why they went for Gus – he was obviously the cheaper option!
So off we went in search of a respectable time and fun race. Things were all going very well as we kept to our target 9 minute pace during the early miles, that was until my bladder struck again. I needed to make another pit stop only 3 miles into the race despite having had three toilet visits only an hour or so earlier. So I left Langley to trot off into the distance and I veered off course for a much needed break.
Stoppage over and I was hot on Langley's tail again, although spotting him let alone catching him amongst 15,000 runners wasn't the easiest task I've ever set myself. I put my foot down and set chase at speed, running at under 8 minute mile pace and found him a short while later. Thankfully this was the last pit stop I had to make on the day.
The atmosphere on the streets was electric and it seemed as though every corner we turned we were greeted by thousands more locals who'd made it their days work to come out and cheer on the runners. It was great!
By 52 minutes in we'd passed the 6 mile marker and were going good. By contrast the race leaders had passed us to our right and were closing in on mile 12! It was at this point Langley and I resigned ourselves to the fact that our chances of a podium finish were looking slim.
We carried on, not so much in quest of the leaders but simply progressing ever closer to the finish line and chance to rest our achey legs. Langley's pace dropped by halfway and I galloped off to complete the second half of the race on my own. I say on my own, but all the way I was supported by the thousands of supportive onlookers. Many runners had their names printed across their chest or back. I however was being referred to as Mr Happy, Mr Smiley and Mr Camera Man. I've certainly been called worse so I was happy with my new found titles.
This support kept me going, but by mile 22 my energy levels were depleting and the going was getting tougher. I kept my head down and tried to remain cheerful knowing there wasn't far to go, but by god those final 4 miles seemed to go on forever. It was at this stage we ran under an inflatable arch with the words 'welcome to the road to hell' boldly appearing across the front. I think this summed up the close of play fairly well – it certainly felt like hell.
As I struggled on I thought back to a runner I'd passed earlier in the race. He was running for a male suicide charity. I couldn't help but think his money would be put to good use sooner than expected as I was feeling pretty suicidal in the latter stages.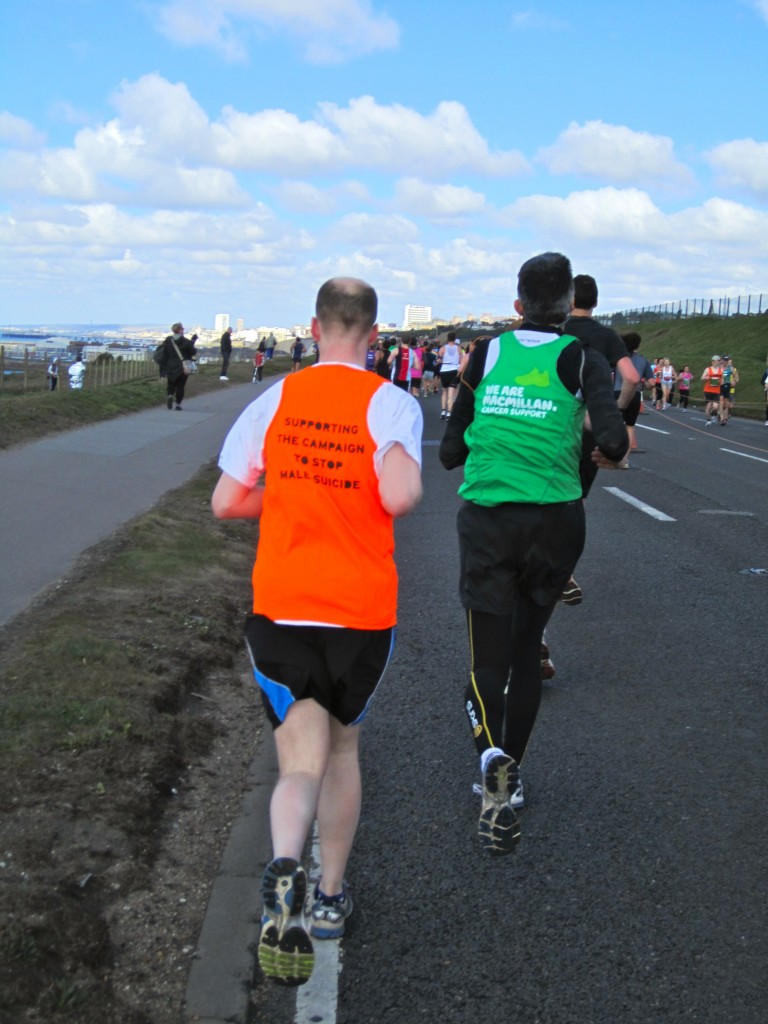 This thought actually lifted my spirits and I also told myself 'however bad I'm feeling now, there are thousands behind feeling a lot worse, and most notably the tiger carrier'. This was a man we'd passed early in the race who was carrying a life size tiger across his back. He ran hunch backed with the tiger an awkward shape and not looking light. A great effort!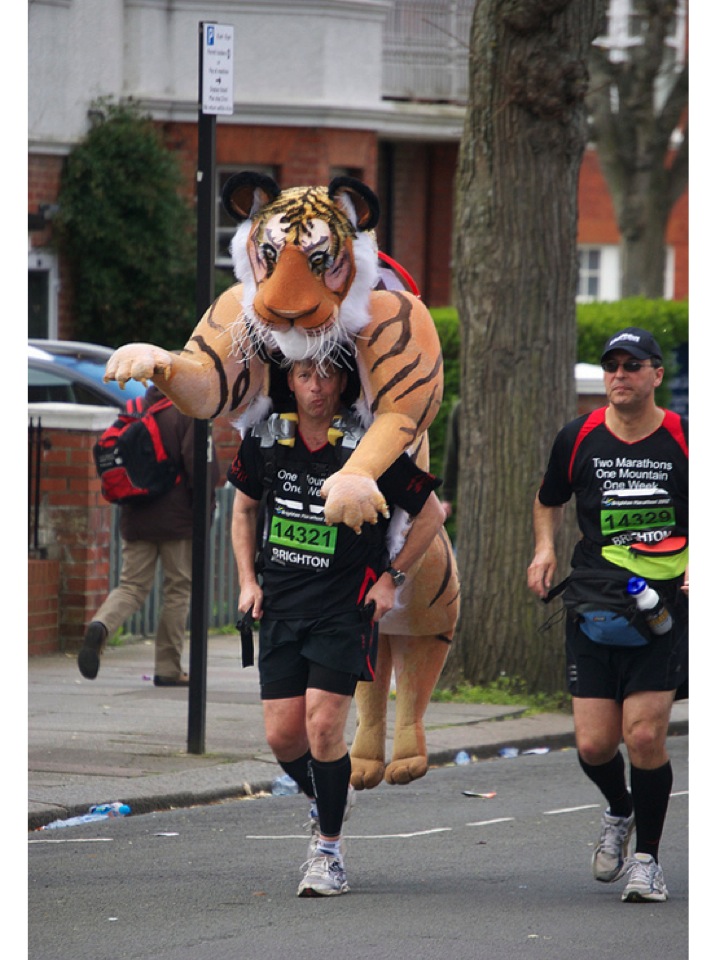 So with the tiger chasing me I picked up my pace and ran for the finish line where I spotted Hayley cheering and screaming. I'd made it home in a time of 3 hours 56 minutes which is my fastest time to date. My times have improved race-on-race – something I'm sure will come to an end soon. But it's a good sign that I'm improving, or is it that the races are getting easier? Either way I'm a happy runner and long may that continue.
I dusted myself down and made my way to the grandstand where I met Hayley. Together we cheered Langley over the line in a time of 4 hours 27 minutes. Also a great time!
By the time we'd met up with Langley we'd secured our place in the VIP marquee courtesy of Rebecca, Alison and Steve at ExtraMile Events. Here we enjoyed free food, free beer and comfortable seating out in the sunshine. The perfect way to end a fantastic weekend!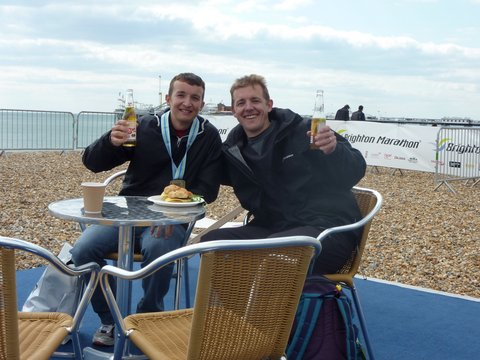 I'll end this blog entry with a quote from Langley who when asked by Hayley on the phone how he was feeling after crossing the finish line he answered:
'The only thing that doesn't hurt is my willy!'.
Marathon running sure does make you say odd things 🙂