I've done quite a bit of road running over the last few years, not to any great standard you understand, but I've done my fair share of miles!  During that time I have refined my road shoe choice and find that for me the best option is the Asics Gel Kayano range.  My good friends at Start Fitness have helped evaluate my running pattern and whilst I'm a heavy heel striker due to having one leg longer than the other, the wear generally on the Kayano's is very even which is what I believe one should be looking for!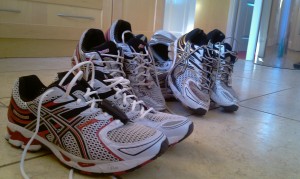 So when it comes to road running I have a shoe that works well for me, and has just become a disposable item (granted an expensive disposable item).  When my current shoes wear out I just pop along to the shop and get another pair of the same size, don't really need to try them on anymore I just know what I'm getting.
However, as Jamie and I are quickly coming to realise the first two marathons in this challenge are going to be very much 'trail runs' with very little in the way of tarmac.  This puts us into unfamiliar territory when it comes to what to put on our feet!  I have to confess trail shoes are not something I've ever really considered.  I have a pair of Inov8 Roclite 318 GTX's which I bought to use in a previous 'adventure', but to be honest I've done very little mileage in them.  The reason for that particular shoe choice was down to the large amount of cushioning they have.  Four triangles on the inov8 scale … I believe that is a lot! This was perfect as I was planning to do a significant amount of off-road mileage in one session. Now it could well be that these shoes still fit my need as I believe they are a reasonable all purpose shoe.
So if anyone has a recommendation in terms of a 'trail shoe' for a coastal marathon which will have a mix of conditions, mud, sand, rock and shale, I would appreciate any advice which will be welcomed with open arms! 😮