Glorious Loch Ness provided the backdrop for our penultimate marathon of the year. On the rare occasion that I travel to the Scottish Highlands I am always amazed by its natural beauty and the fabulous welcome I receive from the locals. I travelled hoping the 2012 Baxters Loch Ness marathon would provide all the spices needed for a great run.
With registration on the Saturday Langley, Hayley and I made the lengthy northbound journey to Inverness, arriving just in time to collect our race numbers and to meet a super sized Nessie who watched over the finish line – our destination the next day.
Once booked into a local hostel, where we were regularly greeted with the welcome; Who are you? (torch shone into face) Ahh you are Judy!! we headed to the local town where we enjoyed a lovely meal and good company setting us up perfectly for our very Scottish race day the following morning.
Sunday began with a nail biting bus journey which saw a conga of coaches struggle up narrow highland hill climbs and compete with other vehicles trying to pass one another on the single carriage road. Sometime later we arrived at the start line, where buses were backed up as far as the eye could see and we were surrounded by stunning countryside and horizon of mountainous landscape. It was a beautiful starting point for what was sure to be a super race.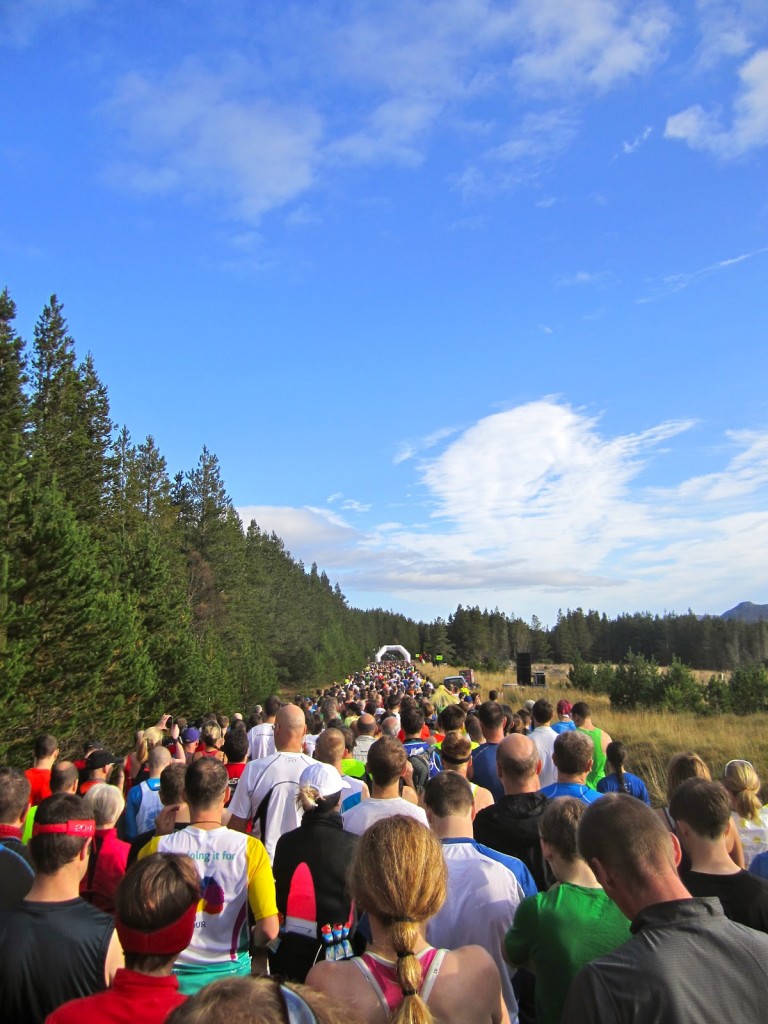 It quickly became apparent that today's race field was going to be one of the largest we'd come across this year, as thousands of enthusiastic Scots bounced, stretched and posed for photos in preparation for their marathon attempt to come. As per tradition Langley and I chose to ignore the recommended stretching and warming up techniques, but we did find time to capture a quick pre race photo amongst the crowd.
The race began in fine style with the sound of The Proclaimers ringing in our ears as we crossed the start line. The chorus 'I would walk 500 miles' could be heard as we trotted off into the distance. Thankfully for us we'd only be running 26.2 miles to reach our goal, but believe you me the latter stages of the race felt as though I'd been walking 500 miles as I hunted giant Nessie and the finish line once again.
To our surprise the Loch could rarely be seen during the early miles, but the beauty of the surrounding area more than made up for the missing landmark and we galloped along gladly at a rate of knots embracing the lively atmosphere created by our fellow runners.
We caught our first sight of the Loch at mile eight, but sadly no sign of a monster – not even in fancy dress form. Something I felt sure to see. We did however pass a giant penguin at this point and gladly neither of us were passed by the man in the penguin suit ever again – a sign that we were still making running progress despite the wear and tear our bodies were feeling so late into our 10month challenge.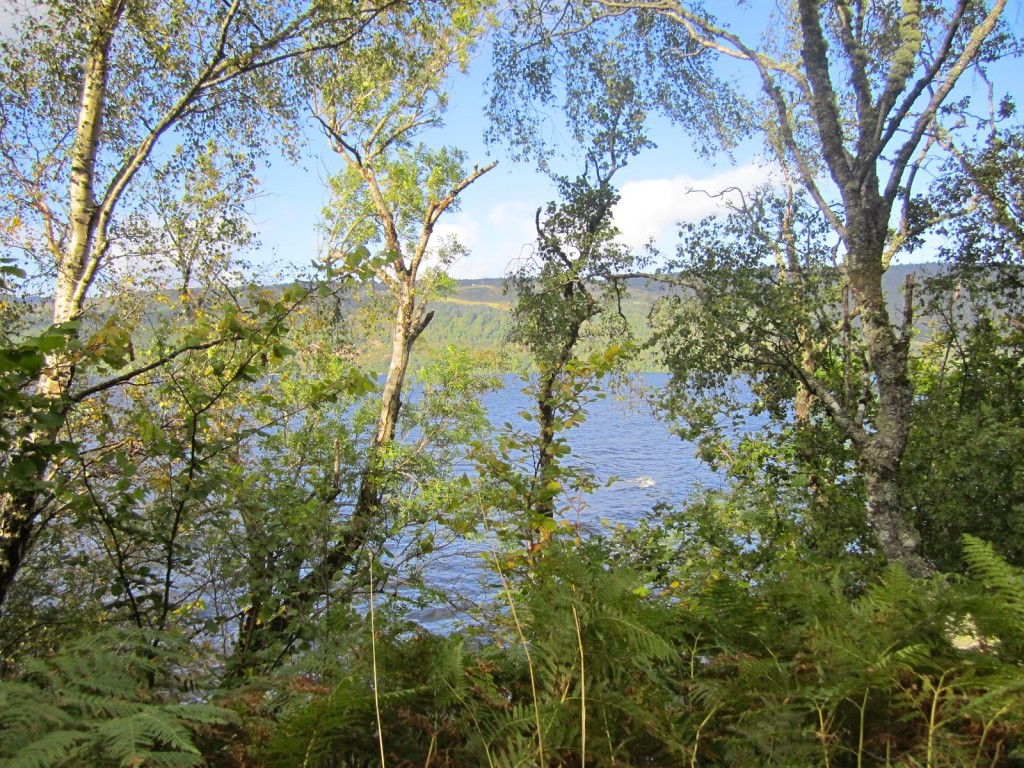 Such wear and tear finally caught up with me halfway through today's race when a knee injury was causing severe discomfort and the thought of completion seriously became a concern. I have been fortunate enough to have stayed injury free up until this point, but my usually low pain threshold was to be put to the test for the first time. My ability to withstand pain was no different as I hobbled to a stop at mile thirteen, where I was handed two pain killers by the nearest medic. I had hoped the painkillers would see through and I'd quickly be on my way to track Langley down as he strolled off into the distance feeling fresh (or at least better than me). Unfortunately for me I was summoned to complete a lengthy medical consent form and by the time I had completed it (some ten or so minutes later) my knee had seized up and re-starting was almost impossible.
I hobbled along for 500metres, often stopping and grabbing my knee in agony and concerned for myself. This stop-start routine carried on for a while longer, with hundreds passing me during this time (thankfully not the giant penguin however). It was on realising that the pain was not going to improve that I told myself that I must run through the pain and get to the finish line as quickly as possible in order to rest my leg. After a number of failed restarts I eventually got going and managed to put the pain to the back of my mind.
My music provided me with sufficient distraction, as did the runners asking about my tee-shirt and the marathon men challenge. Without knowing it I'd managed to run a further two miles without thinking about my knee and to my surprise travelling at a decent pace. I had well and truly put the pain to the back of my mind. The Scots may have said I felt 'knee' pain whatsoever!
Having forgotten about the pain and upon arrival at the steepest climb on the course I decided to walk the hill along with most other runners. This seemed the obvious choice, however once at the top I was back to the same 'can't start, wont start' position and I subsequently spent the next mile hobbling, hopping, stopping, lying and cursing my way along the road. Eventually I got moving again, but by this stage the pain was excruciating and there was no way putting it out of my head. So it was time to man up and battle bravely on. After a tough 500metres I was off and running again and gradually lifted my pace.
I was in pursuit of inflatable Nessie and to my surprise Langley who I caught sight of in the distance at mile 25. I could not believe my luck… I'd managed to keep myself going despite running half the race with a limp, I was definitely going to complete the race which at one time I thought I had no-chance and I was also in with a chance of retaining my crown as undefeated marathon man of 2012 (not that I'm competitive or anything like that).
In pursuit of my buddy, I mean the finish line, I upped my pace and basically pegged it for home!
Apparently I announced to the world that 'I can't stop – my injury is too bad!!!' as I raced past Langley leaving him in my wake. Note to self… turn iPod volume down when talking to others at a marathon.
Loch Ness marathon was to be no different to most others as the organisers had closed off the direct route to over the river and ultimately to the finish line, instead making us run the additional required yards in the complete opposite direction to the finish line. Having completed ten previous marathons this came as no surprise and I battled on trying to pass as many runners ahead of me in the remaining time.
I'd crossed the river in surprisingly decent time and could see the home straight ahead of me, although still no sign of Nessie!
Moments later and thankfully the inflatable monster was in sight and I'd crossed the finish line in a respectable time of 4hours 21minutes. Langley arrived only a few minutes later and we were now only one week away from our final race. That's only 26.2 miles to go!!! I just hope my knee is feeling better this time next week.