Only two weeks after completing the Marathon of the North, Langley and I were back on a marathon start line again, this time at a very sunny Brathay Hall in Ambleside – the home of The Brathay Windermere Marathon.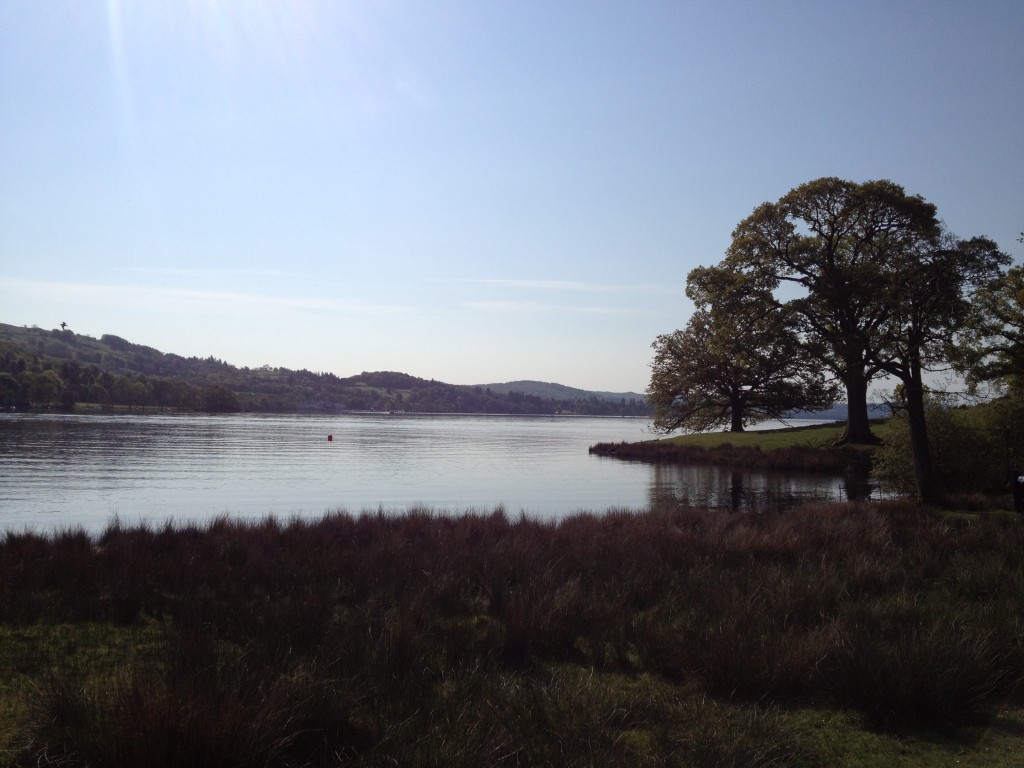 After three consecutive city road races we approached this event with a little more excitement and positivity. Langley had previously run this race in 2010 and again in 2011 and holds the course in very high regard. This was to be my first attempt.
We arrived early and were joined by Paula, Dave, Hayley, Sharpie and Zach. It's always good to know you have a support team waiting for you at the end – it's this that keeps you going, as well as them who grant your every wish after the race is over.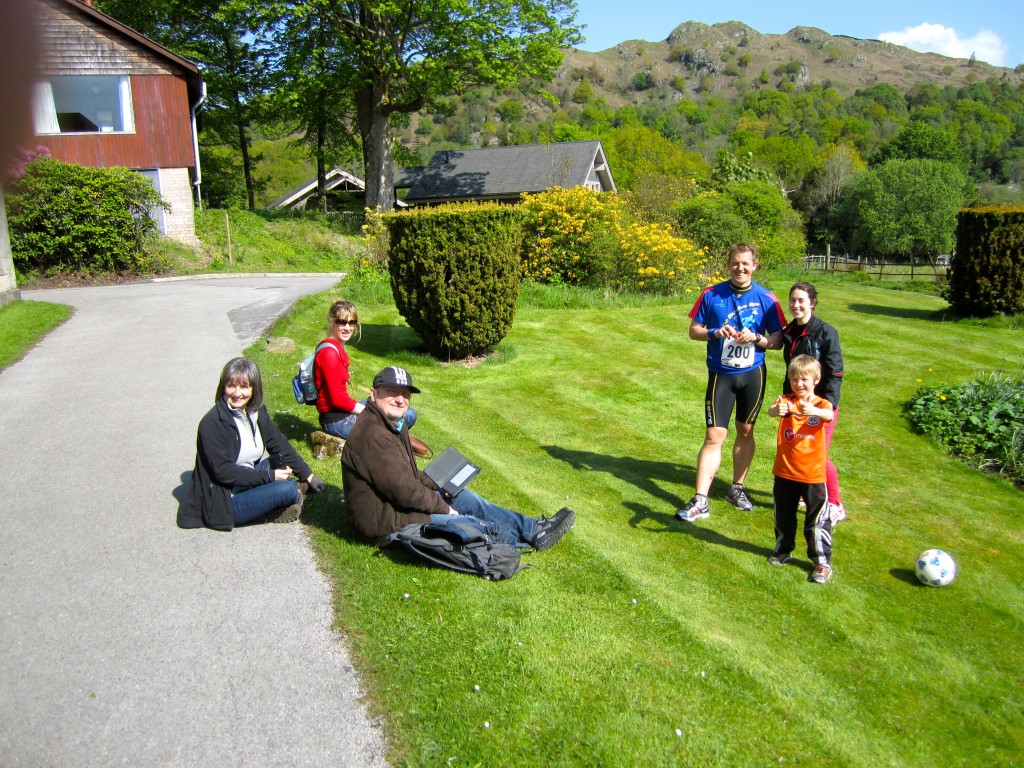 Unlike other marathons, runners at Windermere collect their goody bag at registration, with only the medal to look forward to at the finish line. To my disappointment there was no race t-shirt included, as here runners were encouraged to buy this on the day. We decided against purchasing one, knowing yellow didn't suit our complexion… In truth, we are just cheap skates!
We explored the event base where the race would start and finish. Here we bathed in the glorious sunshine before the starting cry for runners came. We were marched down the long driveway towards the start line by a local drumming band. It was a nice way to start the day and something different from other race starts.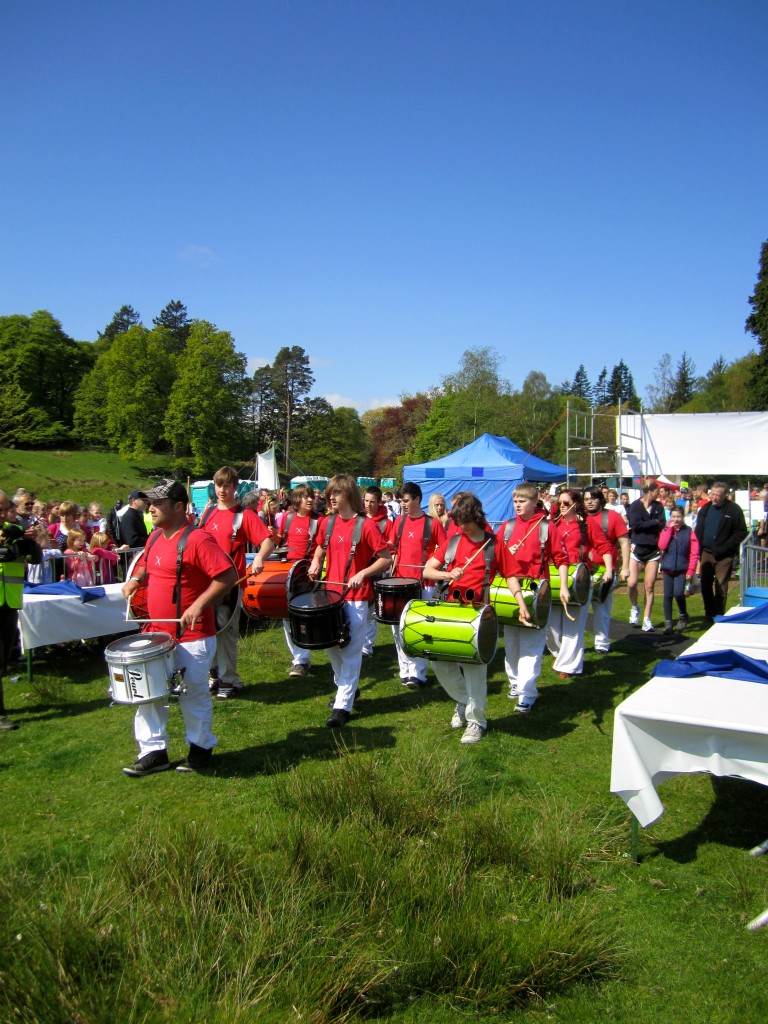 It was at this point we left our support crew. Zach now had the chance to master his football skills, the girls could top up their sun tans and Dave got to catch up with his reading.
The organisers brand the race as 'Britain's Toughest Marathon' but we knew it would have to go someway to contend with brutal Anglesey and energy sapping South Devon, but approach with caution we did.
To our surprise we found ourselves amongst the front runners and we joked that this was the first time we would ever be positioned inside the first 200 runners. Of course this very quickly changed and we gradually slipped back into the crowd of 'slower' runners.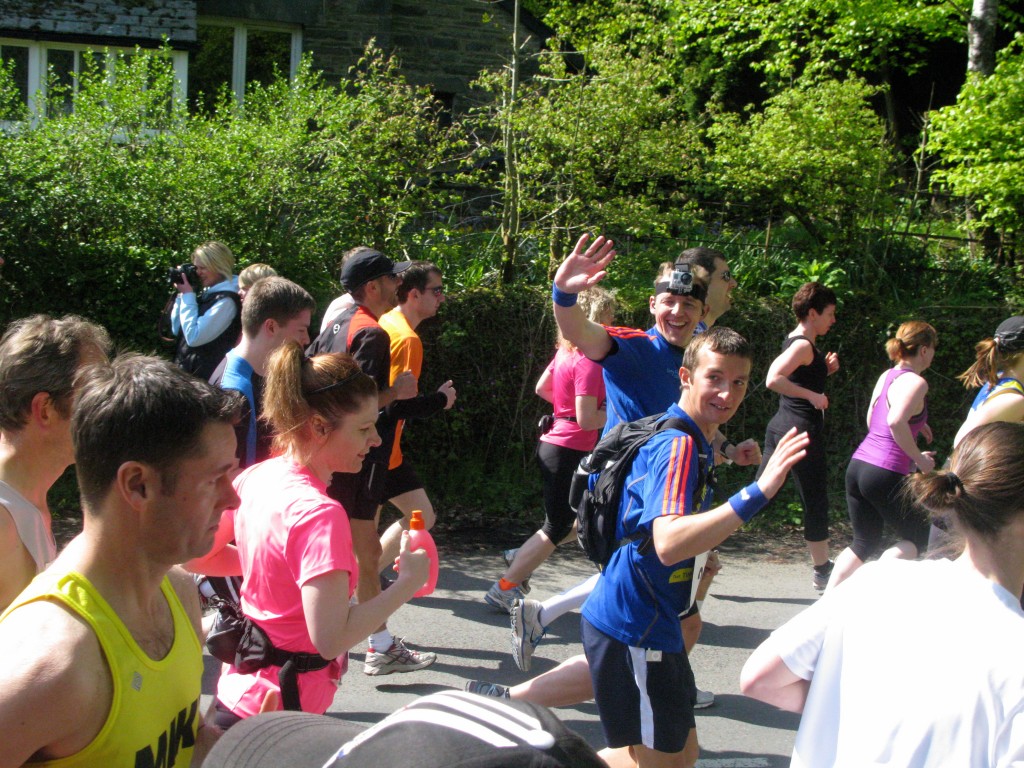 The start was deceptively steep and the roads were windy which meant you could rarely see more than 200 yards ahead. This was a nice change to the recent long stretches of road we'd become accustomed to at recent city runs. It felt great to be twisting and turning around the edges of the lake and the scenery was breathtaking. I can see why so many people descend on the Lake District throughout the year – it really is beautiful.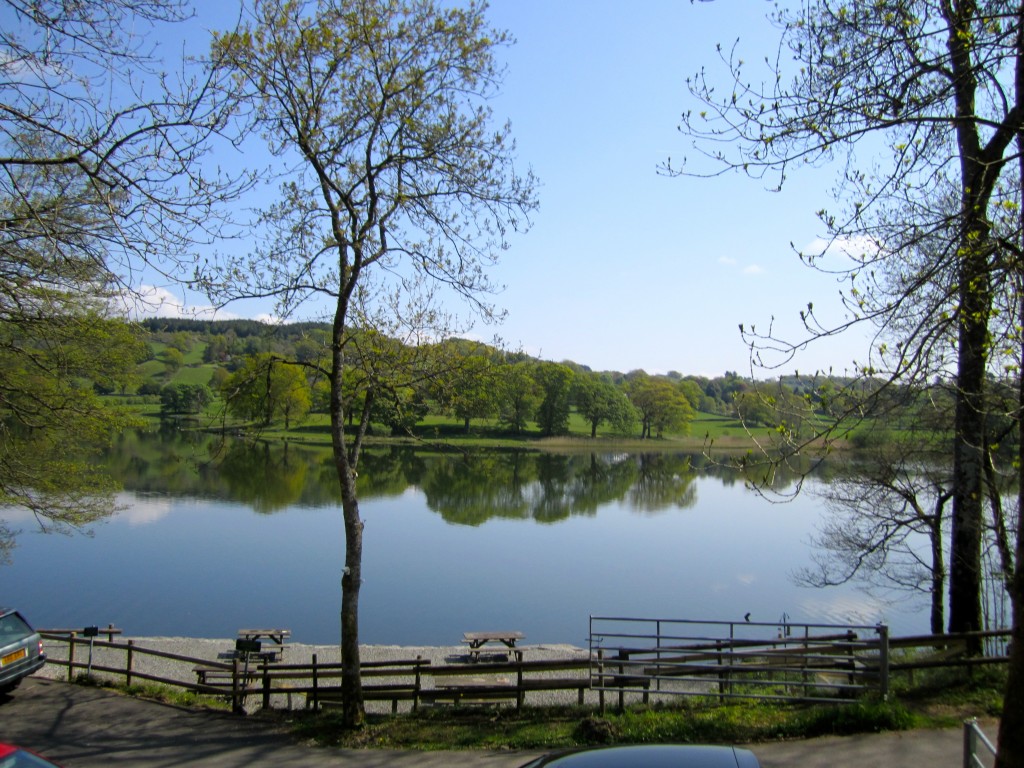 So beautiful in fact it would appear Edward Scissorhands has decided to swap his haunted mansion for a cottage in the lakes. Evidence below: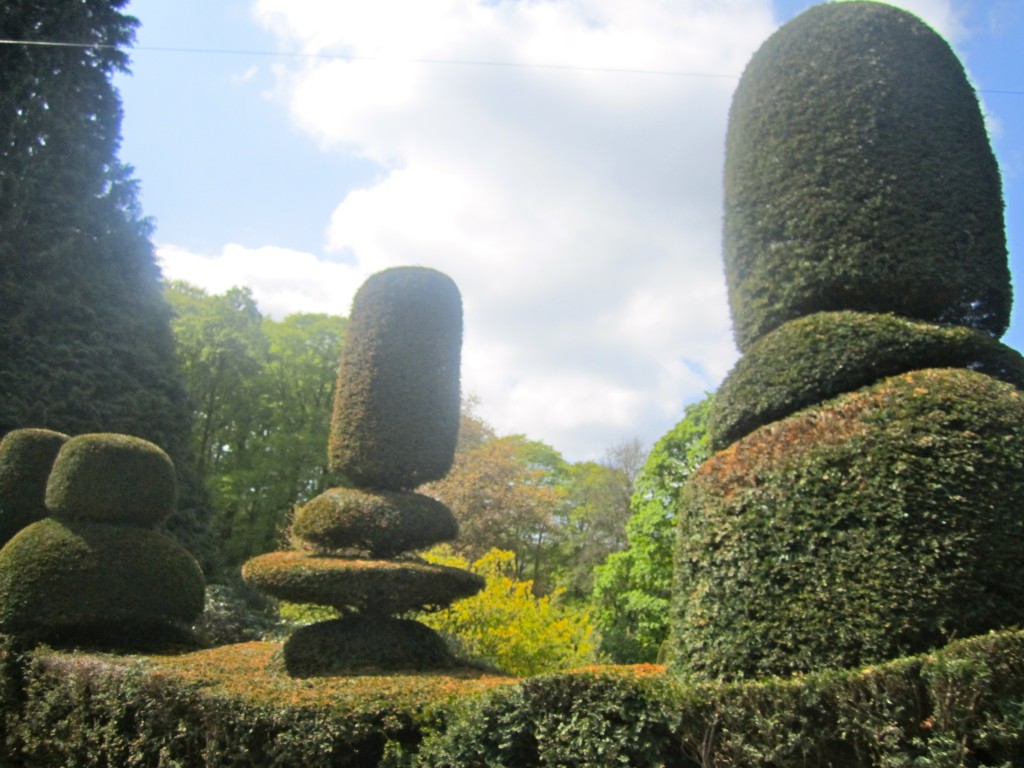 We past Edward's garden at mile ten and both Langley and I were feeling fresh and loving every minute of the race to this point. We were trundling along at a comfortable sub-four hour pace and our t-shirts and head cam were attracting some attention from other runners, as well as spectators. People were full of praise for our efforts and this spurred us on. So much so that we found ourselves scurrying through our tenth mile at 8min 30sec pace without even noticing.
A little later Langley had to stop with cramp and he encouraged me to keep going. A mile or so had passed and there was no sign of Langley catching so I began to people watch. As I ran I'd observe the other runners surrounding me. I questioned how men and women twice my weight were keeping speed with me, how women with supersize bottoms were travelling along at four hour marathon pace and most impressively how a man clearly in his 70s was pulling away from me by my twelfth mile.
It was at this exact point that I set myself three simple targets:
1) Pass and under no circumstances allow myself to be beaten by any of the fat bottomed girls.

2) Catch the old grey haired dude who was only just visible in the distance.

3) Allow myself to slow, but never allow myself to walk during the remainder of the race.
So with these three simple targets now in place I set off on my quest to achieve a respectable time and more importantly the pride of beating these 'how can you run a marathon' folk surrounding me.
Target one was briskly completed as I passsed the fat bottomed ladies, albeit taking a wide berth in passing, before the next hill.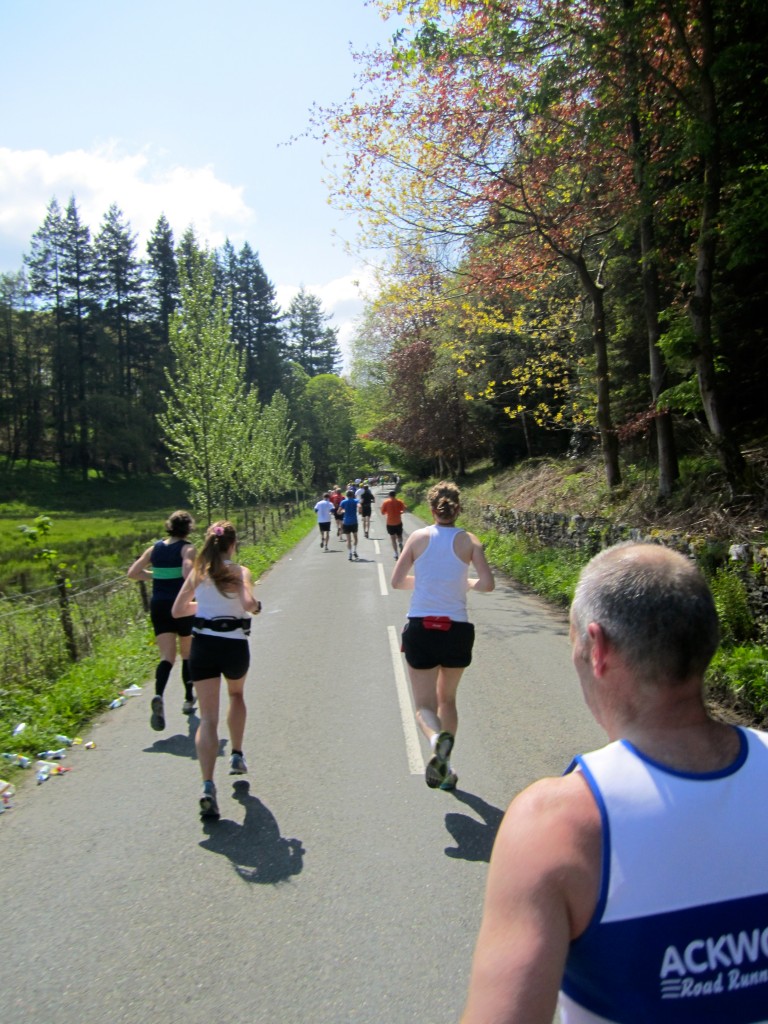 I then began my hunt to catch the old dude, who to my frustration was pulling away even more than before. This was a goal I really wanted to achieve – my pride was at stake here!!
Finally I caught up with him and we ran alongside for a little while without either of us exchanging words. I admired his awesome endurance and he simply gave a few quizzical looks as if to say what are you looking at.
By mile thirteen he upped his pace even more and tried to pull away from me. It was at this point I thought I best strike up a conversation before I get reported to the organisers for stalking fellow runners. I started with the usual conversation starters – I'd ask him how he was feeling, comment on the weather and even had a conversation on Kendal mint cake. I was dying to ask how a man of his age was beetling along a such a rate of knots. So I did, I think I said something like, 'god you'll end up with the front runners if you can keep this pace up'.
He told me that his aim was to finish as the fastest runner of the 65+ vet category entrants and that he has completed more Park Runs than any other person (all ages) in the whole world. Impressive I thought as I slowed my pace and let him trot off into the distance for me never to catch up with him again. I guess you can never judge a runner by his or her cover.
At various stages of the race we had to contend with passing traffic, many of whom were courteous and respectful towards the runners, others took it upon themselves to scare the living daylights out of us as they flew past us at breakneck speeds.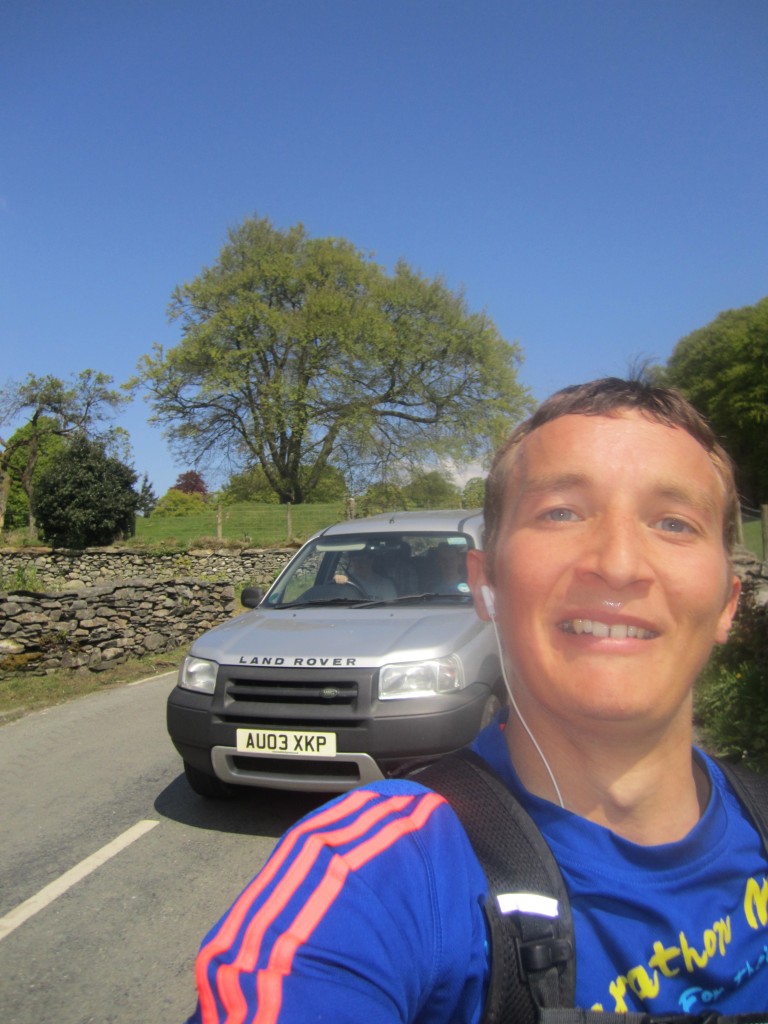 Regardless of your fitness level, marathon background or mental state the latter stages of a marathon are a brutal challenge. Your head tells you to keep going (as do the supporters) whilst your legs are ready to give up. Windermere was no different and in some cases felt harder than previous marathon endings. My legs were screaming at me to slow or stop for a much needed rest and I succumbed to their cries at mile twenty meaning I had failed to achieve my target of not walking. Damn it!
On reflection the walk did me good and after a brisk march up the hill and momentary drinks stop I was on my way again in pursuit of the finish line.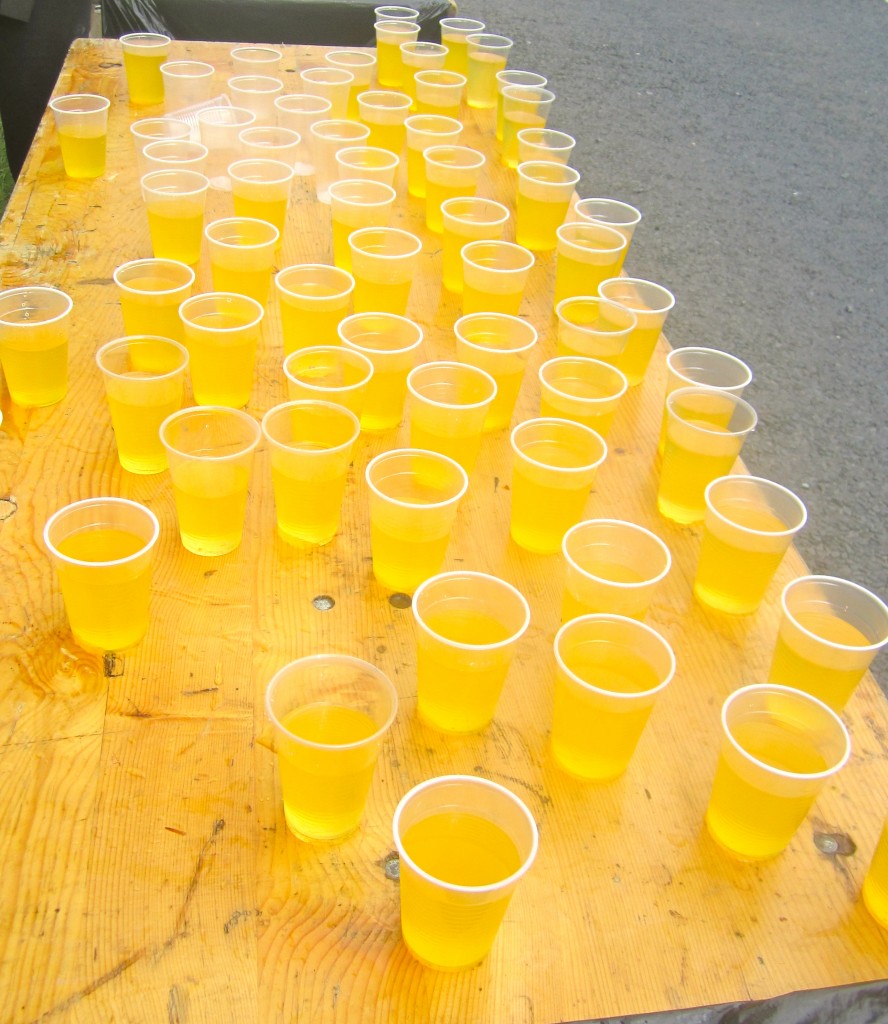 We past through Bowness where the tourists were out in force to cheer us along the lakeside and through the streets. It was a long slog from here on in and I adopted the walk-run-walk strategy all the way to the end – slow but effective!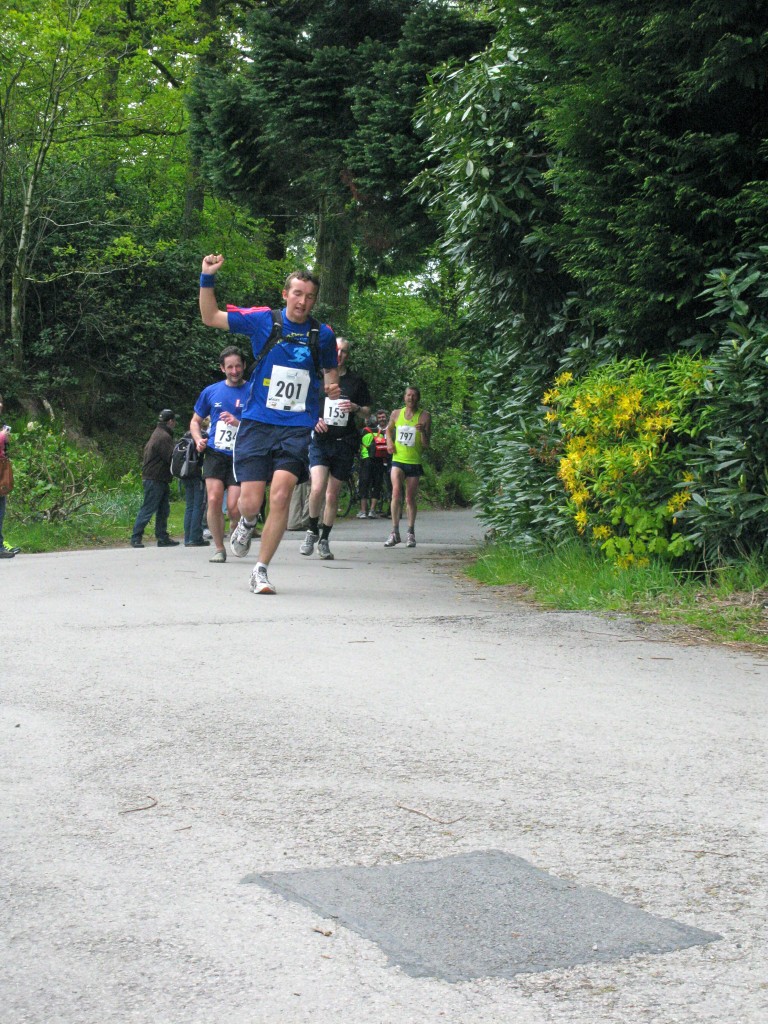 I could not be happier to have reached the home straight and hear our support team cheering as I appeared at the final bend. Always the showman I decided to treat the spectators to a sprint finish. The first words I heard on completing the race were 'you'd have won if you ran it all at that pace'. I will remember this sound advice at our next race.
I think my closing words were 'kill me now'…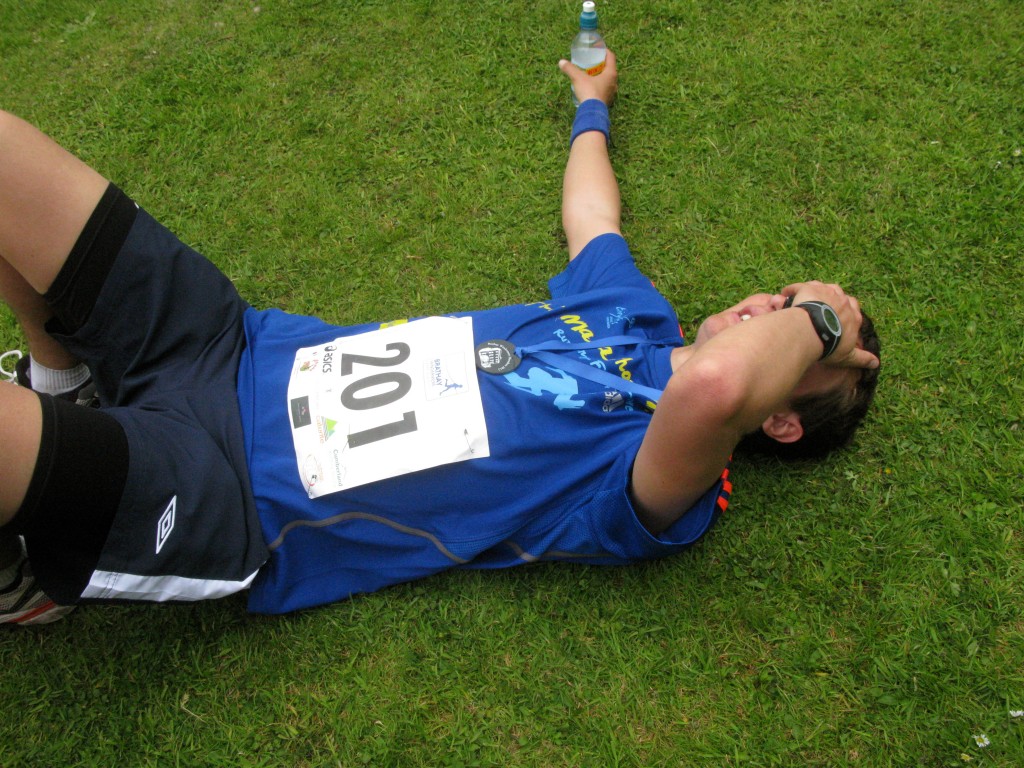 As I lay in a heap Langley also treated the crowd to a sprint finish as he raced his son Zach over the finish line. I must add that it was Zach who crossed the line first, but in Langley's defence Zach had not completed the 26.2 miles previous.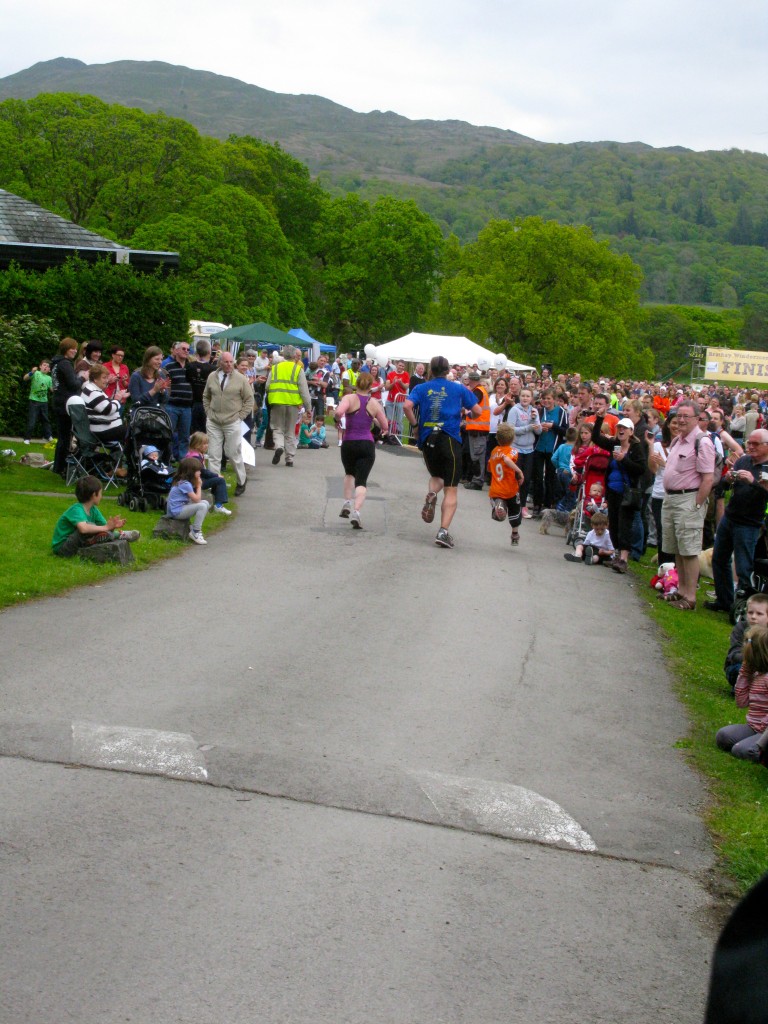 We'd both completed our sixth marathon in the space of just four months. My time was 4hours 18minutes, 41seconds and only a short distance behind was Langley who completed the course in a time of 4hours 23minutes, 38seconds.
The races are certainly not getting any easier, but we are gradually making our way through the twelve daunting challenges we set out to complete back in January.
It feels great to have reached the halfway point!