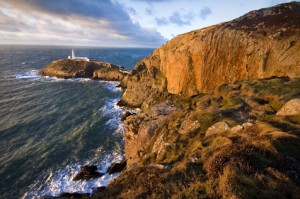 The Isle of Anglesey (Ynys Mon) is situated off the north-west coast of Wales near the beautiful Snowdonia mountain range. It is separated from the mainland by the Menai Strait. Anglesey has a dedicated coastal path running around the whole island. The cliffs have been shaped by the bracing Irish Sea and it's the ideal setting for the start to our 12 marathons in 10 months challenge.
This marathon is actually the fourth stage in the Endurancelife CTS trail series; they describe the terrain as grass, rocks and mud.  Jamie and I will certainly have to have our wits about us!  More worryingly the difficulty level is 3 – Strenuous, although to be honest every marathon I've taken part in has been strenuous!
To add to our enjoyment the course is actually slightly longer than a standard marathon at 27.59 miles with an ascent of 2,264 feet over the distance.  Nothing like starting with an easy one; and this is nothing like starting with an easy one!  If I don't feel forty yet I will do by the time we hit March.
If you're interested in finding out more about this particular race you can do so via the following link: http://www.endurancelife.com/event.asp?series=54&location=135