For the first time this year we had a marathon close to home, meaning no over night stay and just a short drive on the morning of the race. On the downside the marathon was to be held in Sunderland – not the most picturesque of marathon locations.
Our destination was The Stadium of Light and we arrived in good time. We parked up close to the start line and made our way into the stadium for a pre-race coffee. The numbers started to flow towards the mini athletes village, although it was clear the field wasn't going to be of any great size.
Langley and I had an increased support team accompanying us with the ever-present Hayley taking charge in organising her troops for the day ahead. David, Paula and Suzanne simply did as they were told.
The sun was out and everyone was in good fettle. We posed for our usual pre-race photographs sporting our unique '5 Down – 7 To Go' numbers kindly printed by Steve Cram and the organisers. A lovely gesture from them! We positioned ourselves in front of the famous Bob Stokoe statue, who we joked must have been a statue of the first ever Marathon of the North race winner!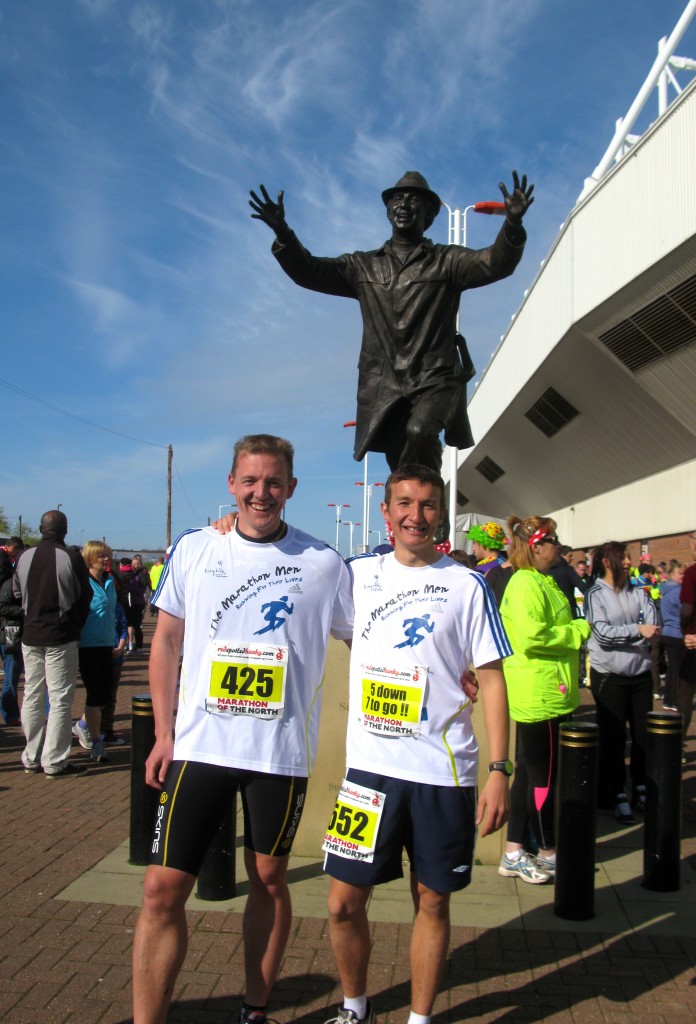 We were under starters orders and the race began with a 30second round of applause for the lady who sadly lost her life at last months London Marathon. A lovely gesture in support of such a tragic accident, however I don't know that reminding folk of running tragedies is the most positive way to start the run. I didn't let this worry me however – it was Langley I was concerned for!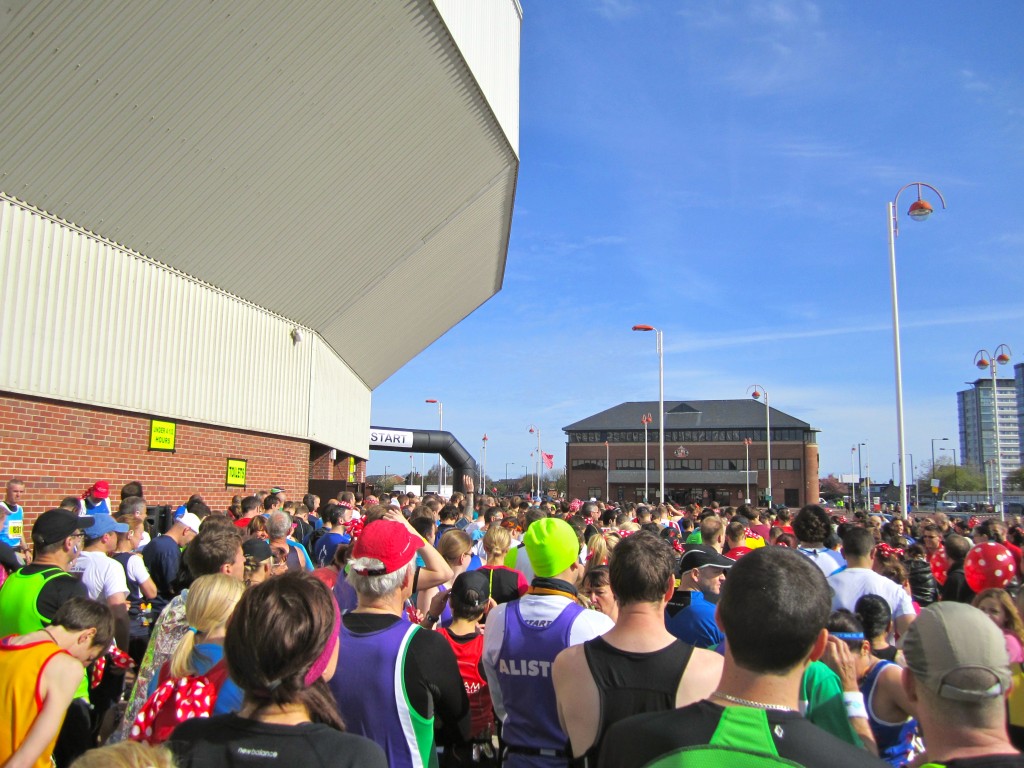 Off we went starting with a lap of the stadium before heading across the Wearmouth Bridge and on towards the city centre. It was at this point we passed a man carrying a fridge upon his back – not something I'd fancy trying myself. What an incredible test of character, determination and endurance.
Locals appeared on the road side, others in their front gardens and some hanging out of windows all cheering the runners on. We ran along some pretty grim streets with derelict buildings surrounding us. I think my pace increased dramatically at this point.
My legs were feeling heavy and I knew today wasn't going to be a personal best run. The roads were long, oh and since when did Sunderland have so many hills? There were two coastal sections which brightened up the run a little and took my mind off the tedious road running which had gone before me. I was thankful too for the sea breeze which brought some welcome chill on what was proving to be a hot day.
Langley had to stop during the opening section to fix his sock which had been causing him trouble and was aggravating his toes. I headed off into the distance hoping he would catch up again soon. Unfortunately he didn't and we ran the majority of the race alone, making the race that little bit harder. I know I could have done with some company for large parts as I struggled my way round the course.
We first met our support team at mile nine, where I was firstly greeted by Suzanne who was jumping and waving, whilst Hayley was capturing my every move on camera.
Next I saw my mam and dad who had positioned themselves a little further down the path. They waved and cheered telling me I 'was looking good'. This spurred me on and I trotted into the distance knowing I didn't look as bad as I felt.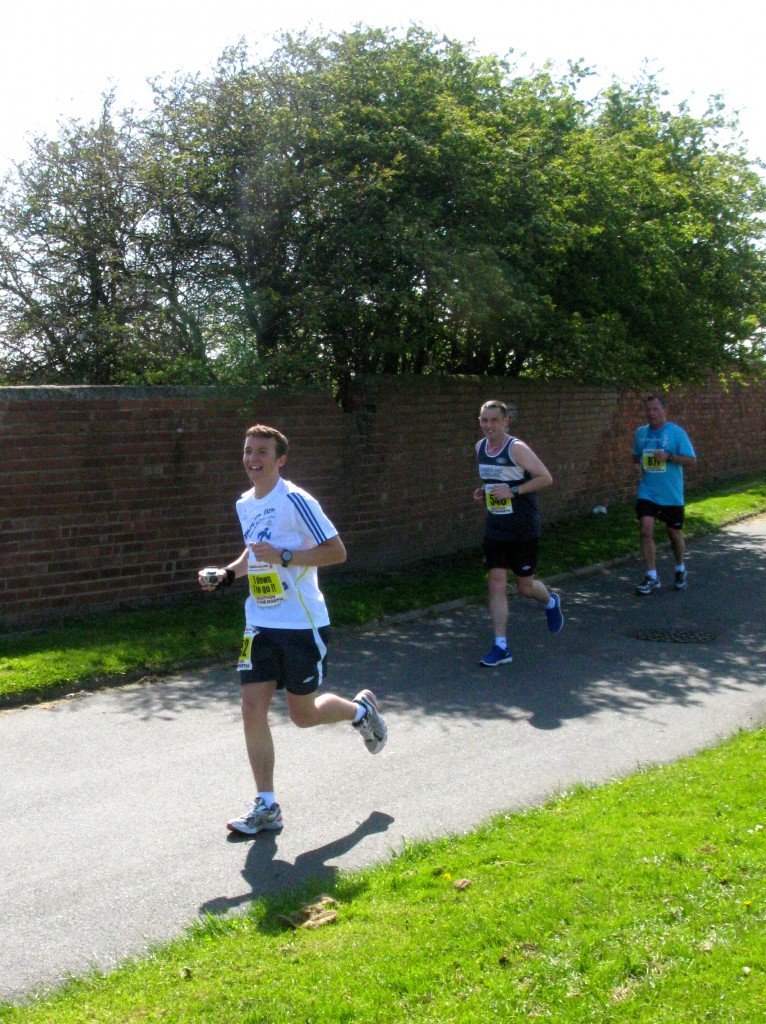 From this point on the run became a mental challenge. My legs were hurting earlier than they had in previous marathons and I had to keep myself going, despite the considerable distance ahead.
My favourite section of the race came in Barnes Park where the support was loud and the scenery was pretty. I'd managed to run two miles relatively pain free – isn't it amazing what a little distraction can do.
From the park we headed back towards the stadium, crossing the Wearmouth Bridge for a second time. We then passed the stadium, where I heard the second placed male crossing the line. Oh how I wished I was him at this point. Third place was still up for grabs so I did consider catching the bus at this point but instead stuck to the rules and carried on.
The latter stages of the race were hard going and my legs were feeling weak, but I knew I could not stop at any stage in the Roker and Seaburn section of the course, just incase anyone I knew caught me walking. I'm glad I kept running too, as I saw a few familiar faces who would no doubt have berated me for walking regardless of how I felt.
Once out of Roker the end was in sight and I drove for the finish line. I wasn't in search of a time, I just simply wanted to rest my aching legs. A few moments later and I had earned my chance to rest up. I'd completed the race in a time 4hours, 5minutes and 6seconds. Not bad considering how early I hit the wall today.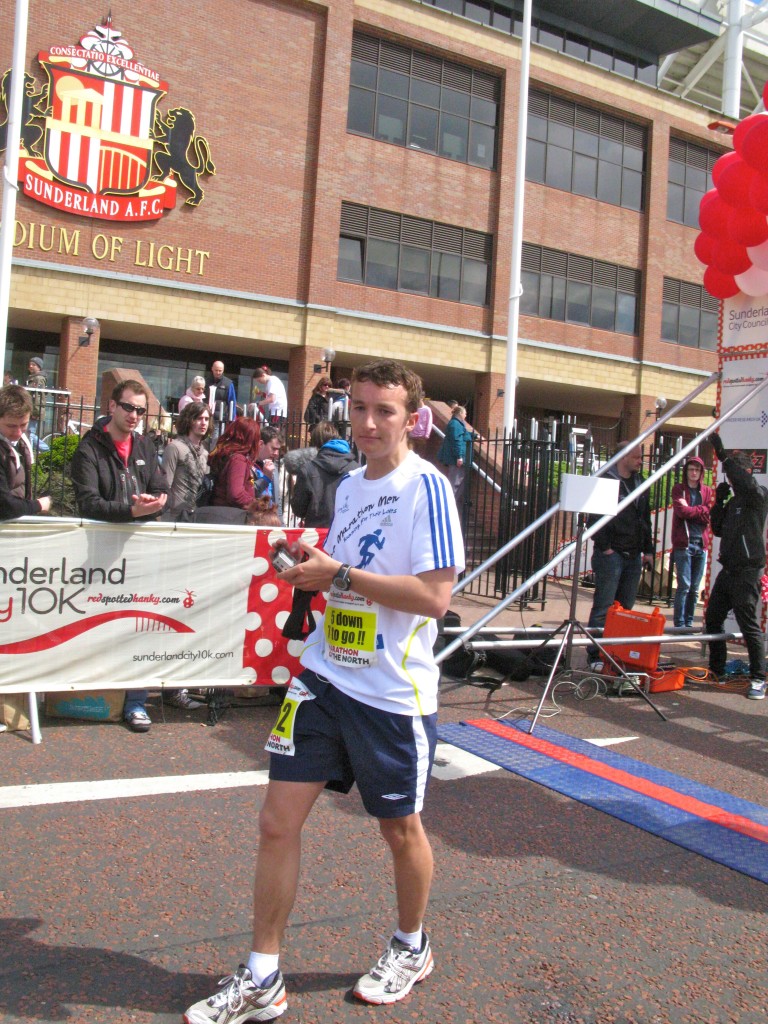 All I had to do now was wait and cheer Langley in. He made it home in a time of 4hours and 36minutes. We had both found it tough and fingers were pointed to our serious lack of training over recent weeks. We were just pleased to have made it round in one piece, knowing Windermere marathon is only two weeks away.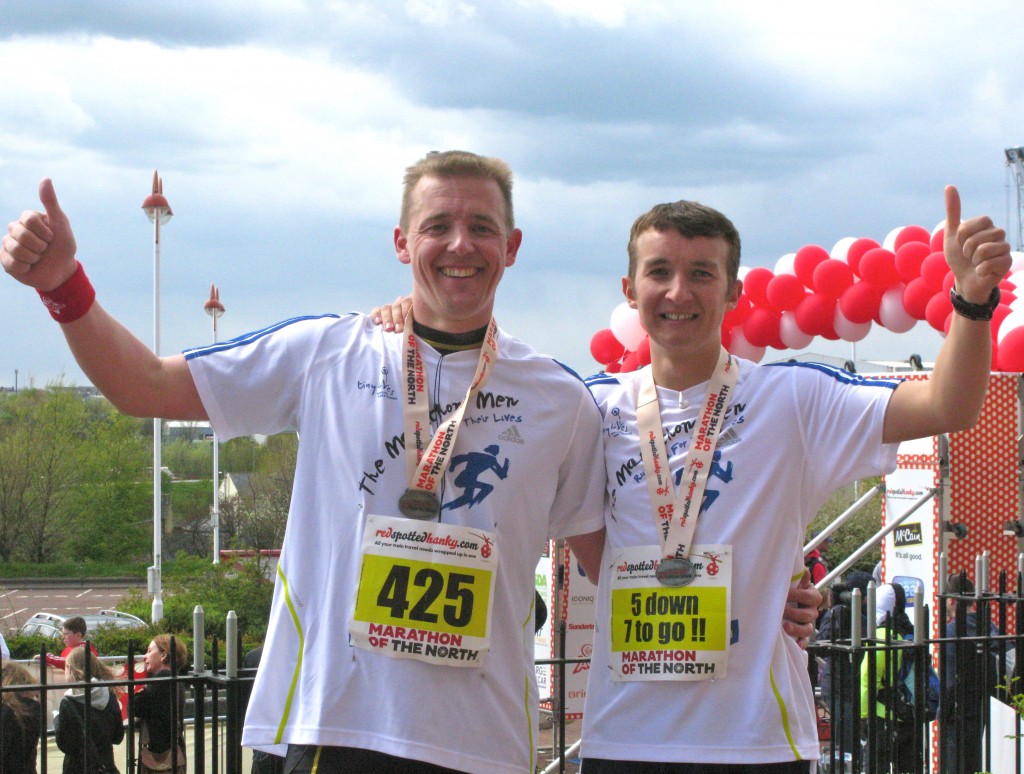 We are now 5 down with 7 to go… Hey, that's almost half way!!!